Warm air scented with orange blossom is my favourite memory of Sevilla, the perfume hangs upon the air and envelops you as you wander the streets and squares of this delightful city.
The history and architecture, particularly in the centre, of Spains fourth largest city is a majestic blend heavily influenced by Romanesque, Arabic and Gothic styles. You'll find many references when you visit to 'Mudejar Style', which is in effect a homage to all that the Reconquista admired about the Arab influence, one that for five centuries of impact ultimately made Sevilla, in many people's eyes, what it is today.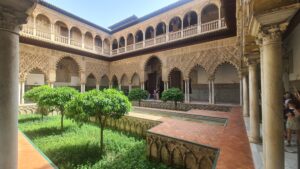 The two square mile old town contains a Unesco World Heritage Site with the stunning Real Alcazar or Royal Palace, The Cathedral of St Mary of See, the worlds largest Gothic Cathedral  and the Archivo General de Indias.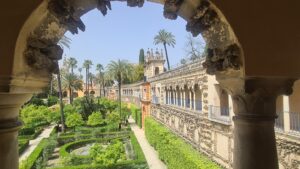 I love losing myself within the gardens of the Alcazar and wandering the hallways trying to imagine what life here was like one thousand or more years ago.
For me though, the joy of Sevilla comes when you lose yourself within the old towns streets. Wander without purpose, relax and soak up the scent of orange blossom, the colour and fragrance of others two, Orchid Trees, Chinaberry and Judas Trees ensure the city is a riot of colour and heavenly scents. If you let your feet guide you they will uncover tiny streets, broad thoroughfares and endless shops, restaurants, cafes and a joyous stream of delectable treats both savoury and sweet. Spain and Tapas are indelibly entwined, in Andalusia that 'Moorish' influence also translates into 'moreish' treats to discover.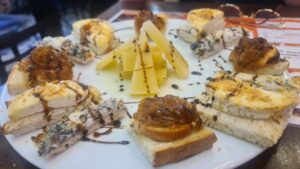 If you are planning a visit to this amazing city do research it in advance. There is so much to do that you will struggle to visit everything (what better than a reason to return) and many sites will need to be booked in advance.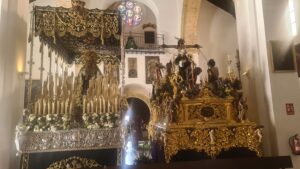 This year we were in the city during Easter Week and Sevilla is renowned for its Easter, Semana Santa or Holy Week Processions.  There are around sixty brotherhoods that carry floats or pasos on procession along set routes within the city. Some of the pasos are up to three hundred years old and bear scenes from the Passion. Under the Pasos are between twenty and sixty people to carry them through the streets.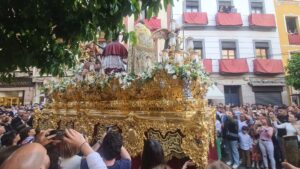 Apparently every thirty to forty minutes the carriers, Costaleros, change and you'll see the previous group wandering through the crowd, red marks and ridged necks from bearing the float. Lines of penitents in robes accompany the procession and bands play music as they work their way past the thronging crowds. It's an amazing sight to see and wonderful atmosphere to be included within.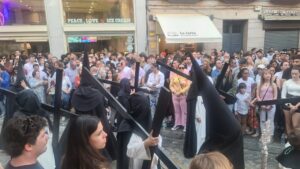 If you love Mudejar Architecture then visit Casa De Pilatos a wonderful example and fascinating experience. It's well worth taking the separate tour upstairs to learn more about the history of the house from one of the tour guides. Its story dating from the fifteenth century is fascinating.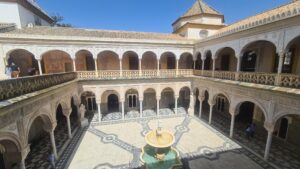 There is so much more to tell you of, Parque Maria Luisa, Plaza de Espana, the Guadalquivir River, more parks, streets, markets and historic sights, there's not  enough room to include it all but do think about catching a concert at the Teatro de la Maestranza. We enjoyed an evening of music from Orquesta Joven (The Youth Orchestra) which included Mahler's 'Das Lied von der Erde', The Song of the Earth. A fabulous evening and performance.
If you want to experience Sevila amidst the scent of Orange Blossom then March to mid April are generally the times suggested to visit; nature has a way of playing around so do remember it can't be guaranteed.
I imagine I will never tire of Sevilla and hope I get to visit many more times.
UNESCO Cathedral, Alcázar and Archivo de Indias in Seville
And a huge thank you once again to Trevor Smith of Travel Counsellors for making the trip so easy!
Share this post