Some towns struggle to shake off a poor image and for many people 'in the know' that can actually be a great asset. Until a town is truly 'discovered' by the masses, those who live there, the cognoscenti, get to enjoy the benefits and privileges unhindered by the clamour of all booking the best tables and cluttering the sites of interest.
Nowhere is perfect and some places have more blemishes than others but give them a little time, take a few moments to stop, reflect and take a look around and suddenly that place you drive around with nary a glance can reveal some gems.
I often find one of the best ways to judge a town is not at street level, not by glancing at the shop fronts but to look up above first floor level and suddenly you can find yourself captivated by architecture, by features that someone felt this place deserved, those little curlicues and flourishes of the architects trade that make buildings so much more individual and interesting. They are features that cost money, took time and thought and over perhaps centuries have provided unwitting pleasure for countless people.
Some towns are special not just for the centre, the hub, but for the surroundings, the rolling countryside within which to lose yourself, the turn of a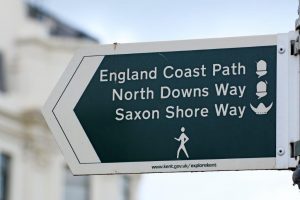 country lane opening onto a picture perfect view that just shouts at you to remember it and cherish it. The fall of a stream over rocks, the glisten of light upon a river surface catching the eye, the reflection of a tree upon water. Take time to explore and suddenly places that may sound drab come into vivid focus and provide a basis upon which to build a life for you and your family.
Places change. As the population grows, as transport links improve so change comes and improvement. Those who benefit are the ones that recognise potential in an area, who look to move ahead of the tide and in this day and age the call is not always 'go west my son'.
An iconic building has stood guard over the channel, stood proud through centuries of change and many historical markers. It is a focus for tourists that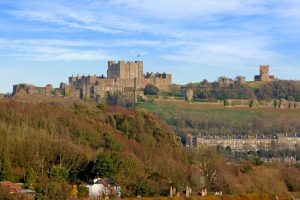 come to this town, a gateway to europe and its busiest port.
It has one of the most photographed landmarks in the country, Vera Lynn sang about the cliffs and it is Europe's busiest passenger port; I am talking about Dover of course, oft maligned by those who have had a fleeting visit, it has so much more to offer than you might imagine. Steeped in history it is full of modern-day surprises too. Spend time exploring its streets and you will uncover little treasures. There are coffee shops and cafes, historic pubs, fine dining and country drives that always give me pleasure.
Dover has been benefiting from the high-speed link to St Pancras and has become an even more sensible destination for home buyers. Catch a late night train back from St Pancras and you will undoubtedly bump into people from Dover and further away returning from seeing a West End Show, a late night at the office or just a fun day and evening meal in London.
Historically attractive prices combined with accessibility and opportunity have drawn people, many more since the M20 connection was finished in 1993. How great to come home from work on a Friday night and wake up Saturday morning and hop on a ferry to France for lunch. If you want you can pop along to nearby Ashford and get on the Eurostar to Paris, Brussels or further afield.
Don't forget though to spend time exploring Dover's treasures. One building that never fails to impress is Maison Dieu. Dating from 1203 it was originally built as a hospice for travellers on pilgrimage to Canterbury. In 1843 it was purchased by Dover Corporation to become the Town Hall, Courts and Gaol. To really step back in time you can visit the Bronze Age Boat, around 3500 years old it gives a sense of how life has flourished here for millenia. Experience Roman Dover at the Painted House and get a fascinating insight into Dover's importance during World War II as you tour the incredible tunnels under Dover Castle. There is so much condensed into one location at this English Heritage site that to miss seeing it somehow seems incomprehensible.
The whole town has seen a major investment and some may be surprised to find how good a range of shops there are. De Bradelei Wharf has long been a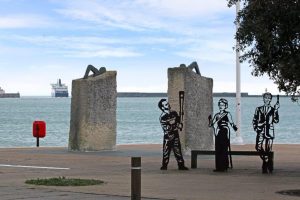 landmark shopping outlet and is complemented by the St James Development that has added a Cineworld, M&S Food Hall, Next and much more.
The Dover Western Docks Revival is a huge project to transform the water front with Marina and Pier and to enhance the cargo terminal and distribution centre.
When you finally begin to run out of attractions in the Town you can spread your net to the delightful Kearsney Abbey and Russell Garden, or take to one of the nature trails at Western Heights, Samphire Hoe or Whinless Down.
Many people may choose to pass under the Channel these days but for me there is nothing quite so special as the sight of sunlight glistening on water. The twinkling of wave crests on a warm summers day, the wake of ships and boats criss-crossing the seascape is an iconic image of life on a busy coast. Cruise ships visit Dover regularly, fishing boats and yachts ply the waters and, when I get the opportunity to visit the continent, there's nothing that relaxes me more than the sight of clear water between the shore and the stern of a ship, then I know a holiday has begun. Dover has served countless people down through the centuries.
As you start to list the numerous things to do in and around the town, far too much to list here, it seems incredible that more people don't champion Dover, but then, as I mentioned at the beginning, that somehow seems to suit the lucky ones who live here.
White Cliffs Country Tourist Information
English Heritage – Dover Castle
Dover District Council – Maison Dieu
Dover Museum and Bronze Age Boat
Kearsney Abbey and Russell Gardens
Accommodation – Maison Dieu Guest House
Fred Olsen – Cruises from Dover
Updates on the train Service to Dover via National Rail Enquiries
St James Dover Retail and Leisure
Share this post