Broadstairs is a town that many know already, nestled between Ramsgate and Margate it has long been the 'go to' destination for the area. With its neighbouring towns currently very much in the spotlight, have people retained their 'Holiday Romance' with this town and is it the perfect place along the coast to set up home?
Why is the location so good? The answer is simple; firstly, take a walk down to Botany bay. If you don't already know it then you're in for a fabulous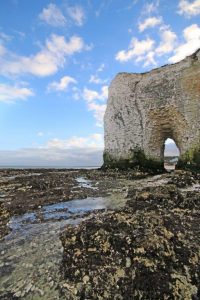 surprise. It's a stunning piece of coastline and the beach received a blue flag award in 2016. It lets you wander along and enjoy the white cliffs, splash around in rock pools and hunt for fossils and is a super place to just take a beach towel and a book. You can wander into Kingsgate bay at low tide or take to the cliff top walks.
Broadstairs was reputedly Charles Dickens' favourite holiday spot and with seven sandy beaches, historic buildings including Bleak House, art museums and delightful festivals it is somewhere that captures visitors' hearts instantly.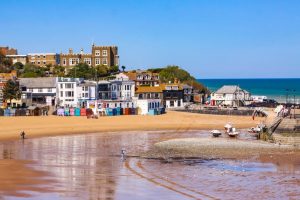 The town itself has that blend of twisting streets, period buildings and a raised promenade looking out over the harbour. It feels quintessentially English, traditionally seaside and is home to some delightful cafes and restaurants.
Since 1937, apart from the years during the Second World War, the third week of June has seen the town host its Dickens Festival, events are crammed into a week, ensuring the area is a bursting with music and activities.
Outside of the festivals that take place every day life can offer more than you might imagine. There is a surf school, more than one actually in the area. Fabulous walks abound of course and, if you prefer, you can catch a movie at the Palace Cinema or step away and be wowed by sleight of hand in Houdini's Magic Bar.
Many people nowadays are drawn because of the High-Speed link to St Pancras, it makes getting here that much easier (one hour and twenty minutes). Nearby, the delightful old harbour at Ramsgate is so picturesque and the cafe culture that is evolving all along the coast also adds to the attraction. From the Turner Gallery to Pugin's architecture there's plenty to immerse yourself in for a long time to come as you explore the wider coastline.
Many think of Broadstairs as a popular place to retire to but it is a fabulous place for children to grow up, it obviously makes a great place for a holiday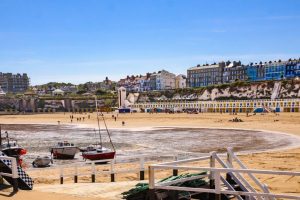 home and it is somewhere that, if you give it a chance, will work its magic upon you and capture your heart.
People have a love affair with Cornwall and Devon, so many miss this incredible piece of Kent coastline, full of unique history and right on London's doorstep.
Like many before you, if you don't know Broadstairs, do go and visit; start your romance!
Share this post