Towns have history, they have character and they change. Like people places mature, develop and adjust and that is part of the fascination of us and them. When I look back, it is so interesting to see how people have perceived a place, a town at different points in time. Faversham is no different.
This market town has a rich history. A pretty and notable place in it's own right today; once things were different.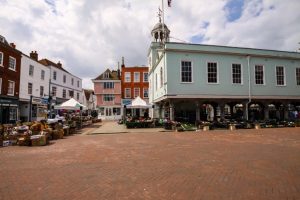 It is part of the Cinque Ports Confederation, steeped in history, references to the 'Cinque Ports' reputedly date back to 1100. The town joined the confederation as a 'Limb' of Dover, one of the main Cinque Ports.
What a different landscape Kent must have been when Dover, Hythe, Sandwich and New Romney were towns of notable size, Canterbury the largest and then smaller but worthy of mention were Rochester, Faversham, the now county town of Maidstone, Cranbrook, Tonbridge and Gravesend. That was Middle Age Kent and even by Queen Elizabeth the first's time, Faversham had less than four hundred homes. Can you imagine?
In his 1966 publication 'Kent', Marcus Crouch writes with contrasting colour and candour of Faversham. 'The key to Faversham is the Creek… from here the fighting merchantmen went out in gallant piracy through the centuries when the Cinque Ports provided the King with his part time navy'.
In the previous paragraph he wrote 'Not very long ago Faversham was a place of sad decay.'
The nineteen fifties seem to have staged the beginning of a revival for this charming town, as Crouch attested, and today I find it one of delightful character and charm.
The market square provides imagery that is recognised far and wide and the streets that lead away from it, parallel to and toward the creek are lined with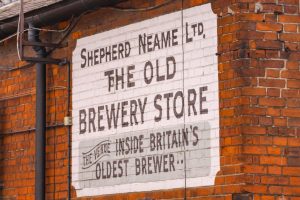 charming homes of varied ages, they tumble around working buildings and repurposed constructs of differing centuries. In amongst it all you'll find plenty belonging to the country's oldest brewers, Shepherd Neame.
The creek is less  a working waterway today and is becoming more of a tourist attraction. Boat yards still nestle up to the waters edge and the rattle of rigging, the lapping of water against placid hulls and the sounds of marine workshops will reach your ears if you venture into the vicinity.
For me, a huge part of Faversham's charm is the ease with which you step from farmland and countryside to ancient town, from cobbled street to waters edge, from cafe to chandlery.
A few minutes walk takes you out of an oh so picturesque centre and onto the Saxon Shore Way, a one hundred and sixty three mile long footpath stretching from Gravesend to Hastings, now there's a walk!
Within the town a melange of small boutique shops and curios keep a unique feel and flavour to the shopping experience. The town has a commuter railway station as we so often love to class them and there are green spaces which mean you never seem to feel crowded.
You won't find the usual swathe of high street chains here generally and some may mourn that, others are drawn here because of it. If you need a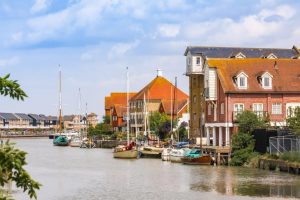 shopping fix, Canterbury is a short trip away by car or train and you can get your fix there, then return to the welcoming embrace of a more relaxed residence.
Faversham is a place of fine architecture, fine food and dining, of great history and great community. Wander amidst its timbered buildings, catch the glint of sunlight off the water, brush past blackberry bushes as you amble around the edge of green fields and delight in the great vibe the town exudes.
Visit and experience it for yourself, the chances are you will want to stay.
Posillipo – Waterside Italian restaurant
Share this post