When you embark upon the process of building your brand image video is always discussed and promoted to you as a powerful way of getting your message across in the modern world.
It may not be something you instantly say, 'oh I so want to be on camera!', not at least if you are me.
Yes I've appeared on BBC News24, on Meridian News as once was and of course on 'Homes Under The Hammer', few estate agents haven't. That doesn't mean that the thought of being stood in front of a camera on your own is any less daunting.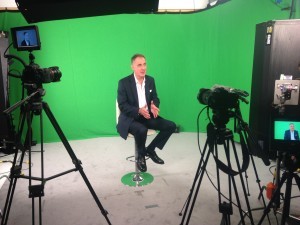 Getting the Graham John message across to people is something I am passionate about doing as the Managing Director. It's my company, named after my father and I'm incredibly proud of it and what it stands for. I'm also very lucky in having an amazing creative team working with me and great support all round.
Consequently, one day in May 2015, actually on the date of my late Mothers birthday, which somehow seemed somewhat fitting, I found myself ensconced in a studio in rural Kent facing cameras and crew and feeling more than a little nervous.
The purpose of the day was to get footage for a number of videos and features. I imagine for the film crew there was a fair degree of trepidation in working with an amateur, how would it all progress?
Filming began and under the direction of an incredibly professional team, my nerves were calmed, my performance improved and we had a great deal of fun. Questions were fired at me fast apace and what you see on film is not rehearsed, it's off the cuff, heartfelt answers to probing questions about our business and how we believe estate agency should be.
Caring about the client, understanding their needs, getting to understand their home and marketing it in a way that not only shows how special it is, but also aims to match the right people to it to make sure the move happens in the right way and at the right time. That is what Graham John is about.
I hope that comes across in the video, I'll let you be the judge of it.
There will be other videos to follow periodically, there is the threat of a blooper reel! We had lots of fun on the day and little interruptions.
We are really pleased with how the video looks, we hope you enjoy it and if you're considering a move, we hope after watching this video you'll understand just how much we will care about you, your move and what we can do to make it special.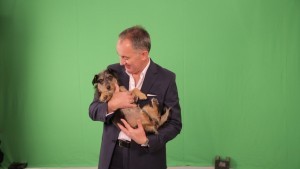 A massive thank you needs to go to all the team at The Wow Factory, creative geniuses behind our branding (you can read a little more about them here). The stars of the filming were the amazing team at Equine Events & PR Jo, Tom and Emily, plus a little four legged cutie who photo bombed me and stole the show!
To see the video have a peek at our home page www.grahamjohn.com
You can view all of our videos on our Youtube Channel
Share this post