The sun shines down on an April morning. The scent of orange blossom tantalises upon a soft warm breeze. Egrets and herons step gently through moving water, fishing the Guadalquivir as it flows under the Puente Romano de Córdoba. Above, a steady stream of people cross the bridge entering and leaving the city. In isolation it is a scene that could be placed in any number of centuries back to the Roman era.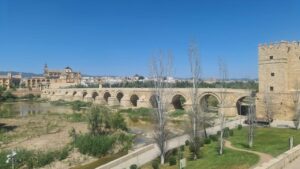 Open a window in time and look back to 1086. Focus on London and try to imagine a stone and timber walled city where records from The Domesday Book suggest the population was around eighteen thousand people.
Now spin your gaze back southwards into the Iberian Peninsula. Travel down through what we know as Spain to Al Andalus, a Muslim ruled region, back to the Guadalquivir and the bridge.  It is estimated that the population of Cordoba in the year 1000 was one hundred thousand people, by then the great library of Cordoba housed around four hundred thousand books and it was considered to be the largest and perhaps most cultured European city. When London housed eighteen thousand Caliph Al-Hakam II had already completed the final expansion of Abd al-Rahman I's Mosque to a structure that, it is suggested, could house forty thousand people for prayer, twice the London population with room to spare.
The Mezquita is breathtaking!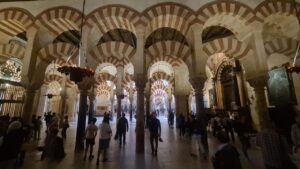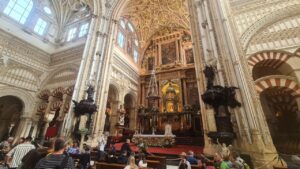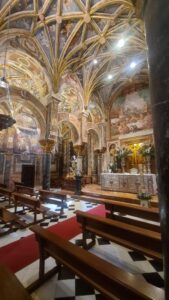 It is an architectural wonder, a tribute to Moorish design, a memory of the perceived height of Arab civilization and the enduring legacy that is woven into Spanish and world culture.
Some of what makes it especially wonderful, for me, is best evidenced at night upon a tour within the Mezquita.
In 1236 Cordoba became Christian during the Reconquista. A cathedral was built within the Mosque and what a cathedral it is. Stunning in its own right the scale of it enhances your understanding of the magnificence of the mosque; that such a fabulous construction as the cathedral can sit within another building is awe inspiring.
Take the night tour; The light show is a superb introduction and I would consider doing this before visiting during the day. A small group within this vast space gives a wholly different perspective and visiting amidst the throng of people in the day time is a totally different yet still exhilarating experience.
Mention Cordoba and most who have hard of it will mention the Mezquita; historians may talk with a yearning of the long gone famed library. Cordoba is much more than the Mezquita and worthy of a proper visit, not just a passing stopover on a trip from Seville to Granada.
Stay here and you will find time to walk the banks of the river, to enjoy the varied bird life that inhabits and visits.
Wander the meandering streets into and out of and back into the Jewish Quarter, the Juderia, with its whitewashed walls and fourteenth century synagogue.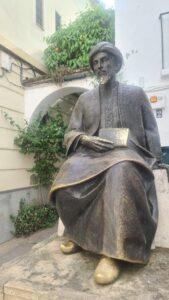 Stroll through the garden of the Alcazar around flower beds and fountains.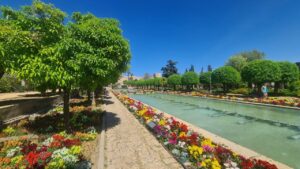 It is hard to imagine that two of the city's most influential children never met. Born nine years apart, to very different sides of society, in a bustling city of one hundred thousand people it is perhaps understandable that they didn't.
Averroes (Ibn Rushd) was born in Cordoba in 1126 and Maimonides (Moses ben Maimon) was born in 1135.
Both were physicians and philosophers, both were hugely influential and, in their own ways, they highlight the breadth of knowledge, the desire to understand and the interest in furthering society that existed amongst many in their world.
Averroes' writings and commentaries on Aristotle were hugely influential, bringing an awareness of the Greek Philosopher's teachings back to the western world and he is noted as one of the great Islamic authors and thinkers. Maimonides is one of the most important figures in the Jewish world with his works including the Mishneh Torah. Around the world his name adorns many schools and hospitals.
Cordoba's history extends well before these two luminaries and its legacy reaches beyond them.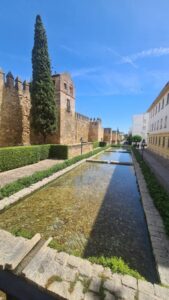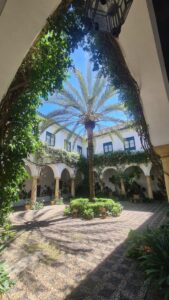 Step outside of the city walls and there is still plenty to discover. The fourteenth century Palacio de Viana with its twelve patios is well worth a visit.
Seek out Plaza de la Corredera, a sixteenth century square that has seen much in its lifetime, now it provides tables, drink and food, a place to sit, chat and research more things to do in Cordoba.
This is a city that physically extends beyond the ancient walls, rewards you with wonderful sights, history, food (try Mazamorra Cordobesa, a chilled almond soup) and culture wherever you go and it is a city that has had a profound effect upon people's lives: we are all children of changes that emanated from Cordoba.
Mezquita – Catedral de Cordoba
Mosque-Cathedral Night Tickets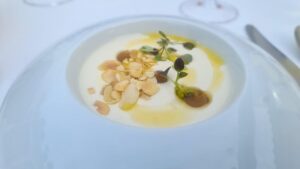 UNESCO 
Ibn Rushd (Averroës): Prince of Science
Share this post