A very good friend of mine once said to me, '…and another great thing about Porsche, they have fabulous courtesy cars!'.
With the vehicle range on offer that's a hard one to argue with as, take your Porsche in for a service and you'll spend your time in a very nice drive for a couple of days, which is exactly what I did this week.  My naughty teenager, well I can hardly call a six cylinder 320 bhp convertible an angel can I, went in for a service. The naughty teenager label seems to fit my mental image of a fourteen year old car rather well and like so many things about her, brings a smile to my face. She isn't naughty and is the perfect lady actually but that's for another article perhaps.
Waiting for me on the forecourt as a courtesy car was a shiny black Boxster, a 718. When I saw it was to be my ride for the next couple of days  a sense of trepidation came over me, admittedly tinged with some excitement.
There can be few people out there, interested in cars, who aren't aware of the furore caused when Porsche announced their new Boxster was going to debut with four cylinders. The press and in particular the Porsche world went into overdrive in a similar fashion to when the manufacturer announced it was committing heresy by turning to water cooling for its 996 series 911, a move that ultimately saved the company from financial disaster. The new engine has the press avidly putting down numerous column inches on the demise of the 'true Porsche', I sense a stirring as dear Agatha Christie turns and contemplates penning a new novel, setting Hercule Poirot off in search of 'The missing cylinders'.
Key the ignition on my fourteen year old Porsche and it roars into life like a lion. It may not be king of the road but it likes to tell itself it is. Key the ignition on the Boxster and… well I'll get to that in a second.
Let's get a few things out of the way before I go much further. FIrstly, this is not an official road test nor an intentional one, I had the car to drive as I would my normal car, in a real life everyday situation. I wasn't out there to make time for playing with flappy paddles or analysing every little detail. As far as sports car noise is concerned, I am an old-fashioned guy who grew up with the iconic black JPS Lotus formula one car dominating his motoring imagery, in a time when Tyrell produced a six wheeled formula one car and elsewhere the 911 seemed to be all-conquering. Later on our lanes and tarmac were assaulted by the likes of the Audi Quattro Sport S1, the Lancia Delta Integrale and the Ford RS200. Power was all and noise was, well an assault on the senses, you heard and felt those things, physically, even through the TV screen they shook you. Daft Punk would have penned Bigger, Faster, Louder, Quicker for that era. I have archaic tastes and derive pleasure from motor cars in a way that isn't very PC in this modern world. Please bear that in mind as I continue and the fact I am six-foot four in old money.
The 718 is a great car to look at, modern, sleek, it has curves and it has angles, it has presence and it has allure, passers-by will look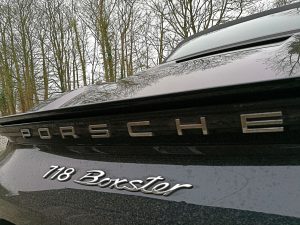 at it admiringly. It's a sure-fire winner for the masses. Inside the cockpit is all you expect from a modern high end car, no disrespect but this isn't a Ford. Yet therein lays a little niggle, there are no bad cars anymore in reality; reliability, styling, comfort and finish, all cars are pretty impressive nowadays.  So what is the difference? Close a door an there's more substance than in say a Peugeot. The ergonomics are impressive, the onboard computer intuitive, the touch screen easy to use, (the Sat nav infuriating). Connecting your phone to the car in my mind couldn't be simpler.  It all works, (reservations on the SatNav). Is it a Porsche gap away from the next level? I'm not sure it is but that says more about the way other car companies have raised their game than being a criticism of Porsche.
The 718 is their newest addition, the cub and like a young cub, coax it and it spits and snarls as you start it up. Driving off at first I found myself listening with one ear, 'when is it going to start sounding like a sports car?'
Phrases like 'Poor mans 911', 'Hairdressers car' and 'you can't get the right sound without a flat six' all rolled through my head. At first I struggled to get my six-foot four frame comfortable, I booked a haircut to get rid of that sensation of touching the roof lining and as I began to get used to the car I started to look around inside.
The car felt a little 'lollopy', not a technical term but, after the 911 it seemed to roll a little more in the bends than I'm used to. The PDK automatic gearbox is great but as always there seems to be a delay, a lack of response when you touch the pedal as if the car is thinking, are you sure you want to press that?
I looked around the cabin. 'That button has a shock absorber symbol on it', ok, let's press it. That's better, sports chassis engaged, now we feel like we're in a proper car, the cub has taughtened up, stiff legs firm its stance as it gets ready to play, it's hunkering down about to pounce. Let's try the sport button. Hello!
That's when the car came to life and suddenly the cub was spitting and growling, fizzing around the road like the world was full of excitement and suddenly it was. Pull away from the traffic lights and it feels like everyone else has gone into slow motion and only you, like The Flash, are moving at 'normal' speed. Through the country lanes the car is poised, eyeing the next bend, eager to get on and as you point it at the exit of a curve our little cub just heads there getting ready for the next one. Look down at the speedo and you think, really! That easy!
The Boxster doesn't handle like a 911, it's mid engined, it wasn't meant to. With four cylinders it doesn't sound like a 911 but put it in sport mode and you'll have to get the smile surgically removed from your face after a spirited drive. B roads, A roads and motorway, all seemed very easy to drive. I love a manual gearbox but crawling through road works on the M1 and M6 makes you love an auto.
After around seven hundred miles of driving (sorry Porsche Tonbridge), how did I feel about the car?
The sat nav drove me mad, more than once I entered a full postcode and got taken to completely the wrong place, well if I hadn't known to avoid the destination I would have been. I can't come to terms with the angled wings as I look down the bonnet. I know I'd get used to the on board computer and controls but, and it's been a while since I've driven one so I don't know if it has changed,  BMW's i-drive seemed much more user friendly in car.
What did I like? The steering wheel is great as are the controls on it. It does drive like a dream and it sounds gorgeous. The roof cycles smoothly, quickly and while you're moving.
Would I buy one? Modern cars leave me feeling disconnected from the road somewhat. I struggle with the over styling and not having any storage behind the seats is a real pain for me, even with two 'boot' storage compartments. Fuel consumption was pretty much identical to my 911 and the sound from the exhaust isn't that bass rumble I'm used to. That actually made a long motorway journey more comfortable funnily enough.
Climbing back into my beloved 911; I struggled to get comfortable, putting the seat back to my original position I realised there wasn't as much leg room as the Boxster. I suddenly felt like I was sat up high in the 911, on a bus. I feel awful in admitting and don't tell Leona this (of course my car has a name, doesn't everyone's?) I was wishing for another drive in the 718.
A true test of a car isn't its 'Top Trump' stats or its magazine reviews, it's about enjoyment and whether you want to run and grab the keys and go for a drive.
Oh boy I'd do that again at a drop of the hat in a 718 Boxster! Yes, the verdict is inspired design.
Thank you Porsche Tonbridge for letting me have some time in such a great car.
Share this post