This is a city that has many faces, means different things to different people and in reality is more of a big town rather than a city, yet, steeped in history, it has a presence that is felt and known across the world. From medieval literature and treacherous deeds to smiling faces and myriad foreign voices laughing gaily in brightly coloured gardens, the city has a thread that manages to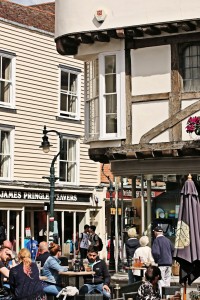 capture everyone's imagination for one reason or another.
The Romans called it Durovernum Cantiacorum and I've read differing views on the origins of that name. I like the belief that has it, in effect, meaning; The Stronghold in the Alder Swamp, of the Cantii people. That speaks of a long lost landscape that is hard to imagine based on what we know and see today.
There is a magic to Canterbury that seems to enshroud you and urge you on as you step through any one of the city gates. Walls of Roman origin inform you that this is an ancient place, one that has had some many feet pass through it before you. Hopes, dreams and deeds have shaped it and you add a piece more to its tale, a Canterbury Tale, but what will be the focus of your story here?
I know Canterbury well and work there and all around the countryside. It has been part of my life for so many years and yet I never tire of it, the magic never fades.
I still have a child like sense of anticipation every time I head there and, for someone who quite unashamedly hates shopping, I must admit the thought of a trip to the city can overcome any objection I might otherwise throw up.
What is the lure then?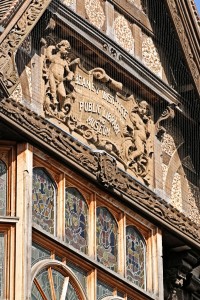 For me it starts with the history and more intimately the architecture, not just the interest that I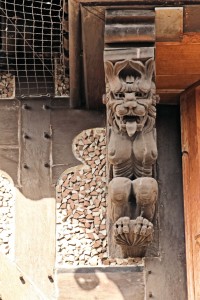 have in the shapes, contours and texture of the buildings but in the stories they hint at.  As you can so easily in another famous city, York, it is a simple task to wander along the streets and let your imagination clothe the people around you in the costume of past centuries, admittedly the electric lights of the storefronts somewhat dampen the impression but Canterbury has such a strong character and presence that the buildings almost banish the spectre of modern intrusion. Much of Canterbury suffered badly during the blitz of World War II and a lot was rebuilt.
As with any ancient place the names encourage imagination and thought, there might almost be a genius loci to many parts of Canterbury and some of the pleasure is imagining the activities in areas such as The Old Buttermarket, Longmarket, Butchery Lane and The Mercery, where fabrics would have drawn people. The cloth trade was well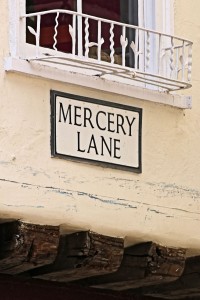 established when, in the late 16th century the influx of Huguenots brought the silk industry with them working with raw material imported from Italy and Turkey. The importation of silk cloth by the East India Company saw Canterbury's silk industry go into rapid decline by the start of the 18th century.
This is a place that has always been graced by foreign visitors, is the goal of the Pilgrim's Way and, as the home of Thomas Becket's Shrine, draws many on pilgrimage. Trade brought many over the years and nowadays tourism and education draw the crowds. Every university town has a seasonal buzz, Freshers' week and beyond there is vibrancy to the area and a thriving night-time economy too.
The joy of such a draw is that restaurants, coffee houses, tea rooms, cafes and deli's abound. Everywhere you turn you can find something to tempt your palate, from traditional fish and chips in Castle Street to Moroccan tastes and oriental delights. In a multi cultural melting pot you can almost experience something from every corner of the world.
Wander the shopping streets and you will see names that are familiar the country over, High Street bastions that keep people shopping but the real charm of Canterbury is the plethora of artisan craftsmen, of boutique shops and jewellers. Like wandering the 'Twittens' in Brighton you'll find endless inspiration in charming establishments. If you want to experience some Danish Style, pop into the wonderful BoConcept in Orange Street.
Always take time to explore some of the history of Canterbury, Chaucer is one of the most famous literary names associated with the city and is celebrated at the Canterbury Tales Experience.
Get a taste of Roman Canterbury at the museum in Butchery Lane and at the other end of the spectrum find out about Mary Tourtel, creator of Rupert the Bear and many other wonderful things at Canterbury Heritage Museum. One of the most striking buildings you will pass is The Beaney House of Art and Knowledge, an art gallery, library and visitor information centre.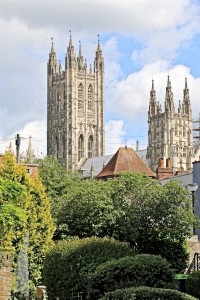 No article on Canterbury can avoid mentioning the Cathedral and it is, for many people, the highlight of visiting Canterbury. Founded in 597 it was rebuilt in the 11th century and after a fire partly rebuilt around a hundred years later. Its history is well covered in many articles and books and I won't attempt to cover that here, what I will suggest for the visitor to Canterbury who plans to stay over: think of staying at The Cathedral Lodge Hotel and perhaps then get to wake up over looking the Cathedral grounds. If you want to check the bell ringing schedule then click here.
For me Canterbury is about so many things. It is about food and drink, artisan sandwich shops, the smell of vinegar on chips along St Margarets Street, wafting coffee smells and sumptuous dining at Abode or at Dev Biswal's Ambrette
It is about wandering through bustling streets past laughing faces and hearing myriad languages in full flow. Canterbury is about living a modern life whilst feeling a sense of connection to history, of continuing a long and colourful narrative of a place that has its own personality and it is about exploring the glorious surrounding Kentish countryside, of apple orchards, cherry trees and flowing streams.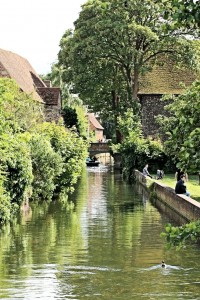 Take a punt and explore the waterways to see the City from a different perspective or just take some time to relax in a beer garden or restaurant courtyard.
The rebuilt Marlowe Theatre opened its doors in 2011 after a two-year hiatus and hosts many a fine show . It's always a good idea to keep an eye on the events list for The Gulbenkian at The University of Kent too as they host some intriguing events and performers.
If you manage to tire of the City centre then there are a whole host of gorgeous places to visit  in the surrounding countryside and we'll aim to highlight some of those in future articles.
As a place to live it seems to offer all you need. A wide variety of accommodation, schooling from nursery right the way through to University. The historic King's School nestles beside the Cathedral. The Langton School works with NASA, read a little about that here and there are a host of colleges and universities, some highlighted below.
Canterbury has shopping, entertainment and dining opportunity galore. Trains from the West Station can be in St Pancras International fifty-six minutes later and for those who fancy the Eurostar to Paris and beyond you can be at Ashford International Station in as little as sixteen minutes. If you fancy visiting Canterbury and arriving in style you can always take a Pullman Carriage to the city.
Canterbury has enthralled people for centuries and it will continue to do so for many more.
Keep an eye out for available homes to buy in Canterbury.
The Beaney House of Art and Knowledge
Canterbury Cathedral Visitor Information
The Canterbury Cathedral Ticket Shop
Canterbury Cathedral Bell Ringing Schedule
Canterbury Historic River Tours
University Of Kent – Canterbury
Canterbury Christ Church University
University for the Creative Arts
Canterbury Rugby Football Club
Kent County Cricket Club – Canterbury
Canterbury East Railway Station
Canterbury West Railway Station
Business Networking in Canterbury
Shops to take note of:
Share this post