Inspiration abounds through the myriad halls that form this expansive show. There's so much to see, from the things you'd expect, lighting, kitchens, furnishings to things that will surprise and intrigue you, magnetic plaster, alternative patio door solutions, home control systems and eye-catching garden buildings, yes including famous garden sheds!
It's a cornucopia of delight for the home enthusiast and we defy anyone to come away from the show without something having inspired them. For those who are embarking upon or are part way through a project the chances are solutions will be found here.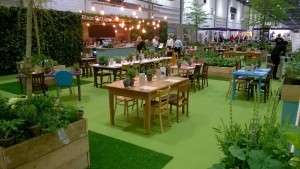 For those who come just out of interest the likelihood is a project will begin upon returning home. It's fun to take part too, as with all shows there is an excited buzz encompassing the whole proceedings, live jazz music may greet you, glorious smells of food and coffee waft around the corner enticing you deeper into the displays and just as you think you've seen everything a little group of cubicles seem to catch your eye for the very first time.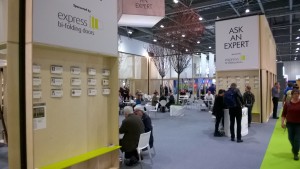 The show isn't just about fun and inspiration, there's a serious side too and a busy area was the 'Ask an Expert' section. Bring your project plans along, this is where you, the public, get the opportunity to sit down face to face for a free thirty minute chat with one of a number of specialists. There are grand displays from large household names plus tiny cubicles with some of the most interesting people to meet and products to discover. The great thing about a show like this is that, however useful the internet is, there's nothing quite as wonderful as seeing an item first hand and talking to someone in the flesh, that's special and what makes the journey worthwhile. Few places allow you to interact with such a variety of advisors, manufacturers and distributors.
We turned up as the doors opened for a show back in 2015 and the halls very quickly filled, it's a popular event and rightly so. If you've been already we hope you enjoyed the show as much has we did. If you're about to go you'll have a great time and if you don't get to go then put it in your diary as something to do for next year.
Find out more on the shows website
Share this post