Eynsford is a delightful place to be, the charming High Street has a look that will captivate any new visitor. Period cottages line the conservation area and the array of architectural styles each century has brought with it ensures visitors will love the picturesque feel.
The 'fall in love' moment for many is when they turn their heads to look down a side street and spot the bridge and the ford, it's a scene that could grace a Constable canvas.
When you then look around the wider area, begin to explore, that's when you truly appreciate how incredible this little village is.
Just down the road you'll find Lullingstone Roman Villa, believed to date from around 100AD this English Heritage site provides a fascinating visit and insight into Roman Britain.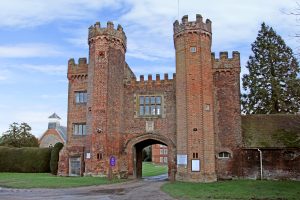 Nearby Lullingstone Castle, one of England's oldest family estates usually opens from April till the end of October on Fridays, Saturdays and Sundays (Do check with them to ensure). Set in one hundred and twenty acres of glorious countryside it is home to 'The World Garden', a concept that was nurtured by Tom Hart Dyke during nine months od captivity in the Panamanian Jungle. Learn more on the castle's website, a link is provided below.
Summer brings to the village wafts of lavender from the nearby fields and footpaths lead through fabulous Kentish scenery.
Eynsford has its own ruined castle, another English Heritage site, the remnants of a Norman Castle.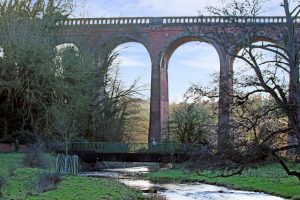 In truth it is the river, the valley and the fields around that seduce people to live here, combine this with the community spirit and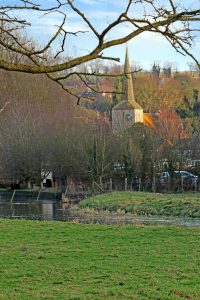 it's a resipe hard to ignore. There's a warm welcome to be found whether you're taking a drink in the Tea Rooms overlooking the ford, popping into the village butchers, browsing the shelves of the local store or enjoying a drink in one of the public houses.
The village is less than eight miles north of Sevenoaks and about four and a half miles from Swanley. There's a primary school in the village and for grown up kids a lure may well be the ease of getting to Brands Hatch, just over four miles away.
There is a train station and services run direct to London Blackfriars, some may change at Swanley for a quicker service or to get to London Victoria. Alternatively, travel to Sevenoaks and change for Cannon Street and Charing Cross.
The village definitely was of importance from Roman times, as for modern rebels, well we'll let you research some of the colourful characters that have lived locally, there's some tall tales to be told.
Lullingstone Roman Villa
Lullingstone Castle and World Garden
Anthony Roper Primary School
Brands Hatch Circuit
Eynsford Railway Station
From Hops to Lavender, a walk from Shoreham to Eynsford
Eynsford Castle
Share this post