Bologna ranks high on our list of favourite cities. It is easy to fall in love with, hard to leave and simple to convince yourself to return time and again.
What makes it so special? It's not hard to outline really and for many it's food associations will draw them in. Known to some as La Grassa (The fat one) it graces many an English dining table in the guise of Bolognese sauce.
Food is close to the heart of Italians and Bologna doesn't disappoint. Your eyes will be captivated by the colours of the fish, fruits, cheeses and hams that adorn the stalls and shop windows. Sensuous smells waft upon the air tantalising your nose and your taste buds will be tingling from the endless opportunities to indulge.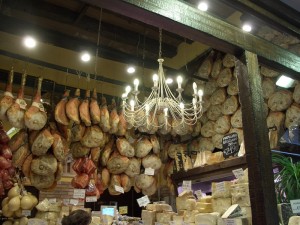 Bologna is very much a lived in city, it doesn't give the sense of being a tourist trap. Watch the locals at lunchtime, laughing, gesticulating and remonstrating, join them in the city centre eateries, on the streets under the arcades and you will feel as if you too are part of the cities magical lifeblood, the passion that flows through daily life and imbibes this historic place with action and urgency.
There is much more to Bologna than food and drink though. Home to western Europe oldest University, founded in 1088, there is a rich tradition of education. Visit the Palazzo dell'Archiginnasio, the seat of the University from 1563 till 1805 and steel yourself for a look at the Teatro Anatomico and the 'Spellati' the 'Skinned Ones' a testament to wood carving skill.
Churches abound at every turn and the architecture and decoration are enough to entertain the Traveller. You can happily while away many an hour marvelling at the varied frescoes and statues.
Bologna's delight for me though are the arcades. Opinion differs on the length of remaining arcaded walkways but if we hinted that there are around twenty four miles, yes 24 miles of arcaded walkways to explore in Bologna then you begin to get a sense of why this city is so special.
So if you love any one of these; food, drink, culture, arts, history, museums, night life, walking and exploring there is definitely a reason to visit Bologna. Make Life Special, get in your car or on a plane and go now!
There are plenty of guides to Bologna to help you plan your visit. Here is Lonely Planets top ten things to do.
Share this post