We all love a good recommendation don't we! We love to give one and we really appreciate when someone helps us by mentioning a person or a business we really would benefit from knowing.
That powerful and meaningful referal is at the very heart of the Kent Life Food and Drink Awards and it is why I love being part of it, because the businesses that get nominated, the ones who make it to the finals and the winners, they all represent the very best recommendations you, we, the public can make.
I said to a number of people at the awards ceremony, 'whether you win tonight or not, what you do, day in and day out, has touched people in such a way that they want you to be here, they have already chosen you as winners in their eyes!'
I love these awards because it is the public who choose who is there on the night and it makes judging incredibly difficult because the quality of all the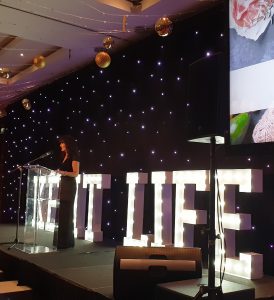 finalists, the love they express for what they do and the care they put into their businesses, it's breathtakingly wonderful.
This is the sixth year I have been privileged to be a judge for the awards and every time I look through the other judge's categories and the finalists I find myself planning the year ahead, where I will go and visit, the voyage of discovery, the joy of experiencing first hand the recommendations Kent Life's readership have shared, it is a wonderful thing to look forward to and so I say, thank you Kent Life for putting something so amazing together and a huge thank you to everyone who voted, you have great taste!
Here is a list of this years finalists, social media is awash with details of the winners and I will add a link soon so you can see them, if you must. All of these finalists are special, they make judging incredibly difficult and picking a winner is never taken lightly, it almost hurts to have to choose one over the others. Try as many of them as you can, make your own mind up and see who your winners are!
Newcomer of the Year
Sponsor: FAS
Jerk n' Tingz – Dover
The Clockwork Cocktail Company – Margate
The Curious Brewery – Ashford
_______
Independent Café/Tea Room of the Year
Sponsor: Perrys
Arthur's – Cranbrook
Cliffs – Margate
The Little Bull Café & Bar – Brenchley
_______
Independent Food & Drink Retailer
Sponsor: Canterbury Auction Galleries
Lost Sheep Coffee – Whitstable
Whitstable Produce Store – Whitstable
_______
Food Product of the Year
Sponsor: Taylor Gurney
Kentish Oils and Condiments Rapeseed Oil – Canterbury
Lost Sheep Coffee – Whitstable
Wonderchup Tomato Ketchup – Goudhurst
_______
Drink Product of the Year
Sponsor: Sophie Mariette Consulting Ltd
Anno Orange and Honey Gin – Tonbridge
Biddenden Vineyards Sparkling Apple Juice – Ashford
Woodchurch Sparkling Wine – Woodchurch
_______
Butcher of the Year
Sponsor: CR Childs
The Butcher of Brogdale – Canterbury
Longfield Village Butchers – Longfield
S.W. Doughty – Sittingbourne
_______
Farm Shop of the Year
Sponsor: Westerhill Homes
Lower Ladysden Farm – Goudhurst
Quex Barn Farm Shop – Birchington
Silcocks Farm Shop – Tenterden
_______
Farmers' Market of the Year
Sponsor: Foodies' Emporium
Cliftonville Farmers' Market – Cliftonville
West Malling Farmers' Market – West Malling
Wye Farmers' Market – Wye
_______
Outstanding Customer Service
Sponsor: Shepherd Neame
Buoy & Oyster – Margate
Houdini's Magic Bar – Broadstairs
The White Horse – Dover
_______
Family Dining Award
Sponsor: Rural Policy Group
Farm & Harper – Whitstable
Roost – Margate
The Bears Trading Company – Whitstable
_______
Pub of the Year
Sponsor: Drinks Warehouse
The Coastguard – Dover
The Three Mariners – Faversham
The Timber Batts Ale House & Forge – Ashford
_______
Restaurant of the Year
Sponsor: Girlings Solicitors
Arya Ramsgate – Ramsgate
The West House – Biddenden
Twenty Four – Hythe
_______
Chef of the Year
Sponsor: Dockyard Gin
Saurav Chakraborty – The Holy Pundit, Hythe
Scott Goss – Verdigris, Tonbridge
Will Devlin – The Small Holding, Cranbrook
I hope you find these recommendations helpful, have fun exploring, enjoy the very best that Kent has to offer and I look forward to seeing the recommendations you make in 2020, make sure you nominate those you find special.
PS If you want to see who won in each category, the list of winners is here.
Share this post