Tucked on the south coastline of Kent is a lovely hideaway that manages to offer so much. Very much a town of two halves; you can wander narrow streets and alleyways as you climb the hill in company with breath-taking views across the English Channel and along the coast over Romney Marsh, or you can stroll through gardens and alongside a Napoleonic canal then amble to the seafront.
Hythe has something to offer almost everyone, a small town it has more the feel of a large village and maintains a charm that really appears when you stop and take a proper look 'behind the scenes'.  A still vibrant High Street is one great aspect, supporting butchers, a greengrocers and a variety of specialist shops this Cinque Port Town takes many centuries of history and shapes it into a welcoming and captivating concoction.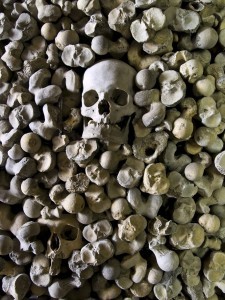 Take a saunter through the lanes of the town and you will encounter remnants of a different time, stand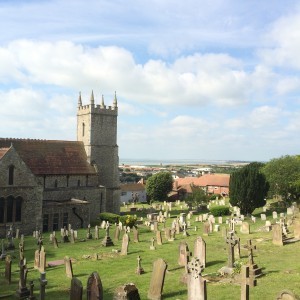 beside a mooring stone and imagine what life would have been like when the sea came up to the area that is now the High Street.  Step up the hill to the Church of St Leonard, known by many for its Ossuary it is a wonderful building. In his 1966 book 'Kent', Marcus Crouch wrote, 'It is one of the finest churches in Kent, and its chancel is, outside Canterbury Cathedral, the only work of architecture in the county for which the term 'inspired' is not inappropriate'.
As you stroll on the level towards the seafront there are walks and a number of points to cross the Royal Military Canal. In his 1820's rides through England William Cobbett visited Hythe and berated the government for wasteful spending, 'Here is a Canal, made for the length of thirty miles to keep out the French; for, those armies who had so often crossed the Rhine and the Danube, were to be kept back by a canal, made by PITT, thirty feet wide at the most!'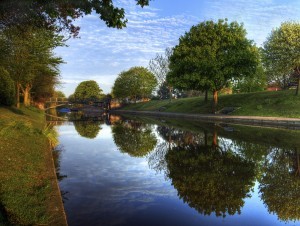 Today people enjoy strolling beside sections of and rowing boats upon the canal.  In 2015 it will be, as it is every two years, the scene of the Venetian Fete, a waterborne spectacular that began life in 1890.
Hythe's history is inextricably linked with the army. Barracks and firing ranges at West Hythe are still active. Around the town street names harken back to a time when much of the town itself was covered with military buildings. You'll find Martello Towers along the coastline, some now unique homes; of the towers we won't borrow Mr Cobbett's words as he loved them little more than the canal.
A lovely way to spend a summers day can be to enjoy a seafront walk from Hythe along the seafront following Princes Parade past Seabrook and into Sandgate. If that is a little more than you wish to do then perhaps take a dip in the sea and watch the sailing boats of Hythe and Saltwood Sailing Club dance on the water. The four star Imperial Hotel sits proudly looking out to sea where Twiss Road joins Princes Parade.  Stroll westwards from here and you will find the Hythe Bay Seafood Restaurant a great place to sit and gaze out to sea over lunch or dinner.
Around the town centre there are lots of wonderful eateries and places to get a drink, too many to mention individually but we can't help but suggest, if you manage to find a place to sit, it's very popular, try La Salamandre , home to Alain Ronez, Marco Pierre White's acclaimed former pastry chef at The Canteen.
The famous Romney Hythe and Dymchurch Light Railway starts its journey here and winds through 14.5 miles of countryside to the nature reserve at Dungeness
Bounded by the sea on one side and delightful countryside on the other Hythe's charm comes from its sense of remoteness yet it remains accessible. The M20 is just a short drive away at junction 11. International trains are easily accessible as are ferries, taking lunch on the continent and returning home for dinner is a great way to spend your day. If you want to pop up to London or perhaps do the commute you can go to Folkestone Central (approx. 4.5 miles) and catch a fast train to St Pancras International arriving as soon as 53 minutes later. Ashford is approximately 14 miles and the fast train from the International Station will get you to St Pancras in around 38 minutes.
As you can tell we love Hythe, visit and you'll see why.
If you are looking to buy a home in or near the town please contact us and tell us what you're looking for. If you are thinking of selling then have a chat with us and we'll discuss how our bespoke marketing can help you achieve the move you want to make. Buying or Selling register with us here.
Check to see if there's a home available for sale that might suit you, but please remember, not every home for sale appears on the internet so do make a point of registering your interest with us. See current homes for sale.
Share this post