10,000 bulbs planted and lifted each year as part of a never-ending project. 10,000! I baulk at lifting any and so the gargantuan task that faces these gardeners is a monumental achievement in my eyes and worthy of praise in itself.
Why do they do it? It's a combination of obsession and inspiration instigated by one of the world's most famous painters and having recently visited his home and garden in France for a second time I find myself reflecting on what drew me back.
I'm colour blind so I find some art, painting in particular and perhaps the Impressionists most of all, well, in a word, underwhelming. I apologise to all those adoring fans of Claude Monet and there are plenty of them, despite a period in the doldrums, his works are some of the best known and thankfully, for all of us, came back into vogue around the nineteen sixties.
Why thankfully? Well his works fell out of favour for many years and after his death in 1926, his house and garden began to deteriorate along with his popularity.  To have lost Giverny, the garden and the vision would have been a terrible shame for all of us and it would have been a shame for my education too.
I love gardening, a passion developed unwittingly as a child following my grandparents around their garden, vegetables and flowers tended, discussed, tasted (where appropriate) and viewed. As I grew older I discovered Sissinghurst, Wisley, Bodnant and countless other grand and bijou gardens. Travels took me to Issola Bella, Boboli and Rayol, all adding to the fascination and delight that comes from seeing different visions.
Giverny was a unique delight and, when some of our family from the USA announced they were coming over and wanted to visit Normandy, another trip there seemed appropriate.
One of the best things I did for our first visit was book a guide. I've spoken with many people who have visited Giverny and when we start to discuss aspects of the house, the garden and Monet, well it's amazing how much our lovely guide Ariane imparted to us. That knowledge and understanding is the real reason why I was keen to return and, as I do with Sissinghurst, I will now return at different times of the year to see how an obsession uses nature to paint a scene with colour and interest.
Claude Monet may have been slow to grow in my appreciation, commercially he was too in life.  He was fifty before his works really began to earn him enough to buy the home he had been renting. In the following years the garden went from providing vegetables for the table to becoming a showcase for his vision. Ever becoming more detailed and growing as he acquired more land, what we see today is a captivating garden that became partly a painters colour palette and partly inspiration for some of the worlds best known images.
I'm certainly not going to spoil the surprise here nor give away all of the wonderful information our guide Ariane Cauderlier provided. What I will say is that I now have an understanding of the man and his art that makes me look at his paintings in a completely different light. I gain a pleasure from them that I never did before, partly because I understand much better what went into creating those images and because, with many of them, I have now stood where the great man stood and seen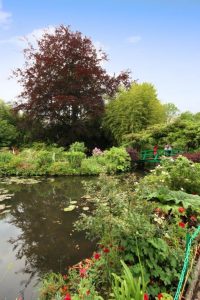 with my own eyes the scene he saw. The shame is that he never got to see the backdrop we see today with the trees he planted now so mature.
Giverny is somewhere that any keen gardener must visit, it's also a must for anyone who is a fan or student of art. Delightfully it is somewhere that all of you should visit because i find it hard to imagine that it wouldn't provide a sense of wonder and enjoyment whoever you are and whatever you enjoy in life. The swathes of colour, the planting, structure of the garden and delight of discovering a new area as you wander makes time there pass too swiftly. Wandering through the house and hearing about life there adds another dimension to the visit as does a trip through the shop.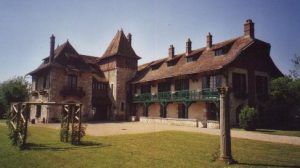 As for accommodation in the area, we were very lucky the first time we visited to find Bed and Breakfast at Le Manoir de Notre Dame in Port Villez. On the opposite side of the Seine from Giverny it is a simple drive away and well worth considering a stay. Le Manoir is something of a French Folly, architecturally delightful and host, Helene Daguet, is always charming and a pleasure to be with. The house has that wow factor and is a perfect resting place if you like a little peace and quiet. A short drive will take you to a choice of local restaurants, Helene's recommendations are always excellent. Staying at Le Manoir on our second trip to Giverny was pretty much a given and thankfully we secured rooms in advance.
As for getting there, we took the car on Eurotunnel from Folkestone to Calais. The drive, if you head straight to Giverny will take around three hours, the AA's estimation, not mine. If you're minded to there is plenty to do around the area. Monet chose Giverny for its proximity to Paris, Versailles is one place you might aim for and heading west there is Normandy and so much to do.
I look forward to my next trip to Monet's garden and I hope some of you get to experience it in between.
Some useful links for you.
Guide Ariane Cauderlier
Accommodation  Le Manoir de Notre Dame
Eurotunnel Folkestone to Calais
P&O Ferries Dover to Calais
Share this post