Mention Seattle and some will instantly think Microsoft or Amazon, others will consider the city as the birthplace of 'Grunge' and some may know it as the birthplace of Jimi Hendrix. This captivating city on the North West Coast of America is one that surprises many visitors and draws you back time and again against all expectations, so why does it have such an impact?
Seattle sits on Puget Sound and is sandwiched between water and the tall Cascade Mountains. Snow-capped peaks provide a backdrop that catches the weather and means Seattle has a dramatic climate. Warm summers and wet winters provide lush scenery and the cities parks have earnt it the nickname 'The Emerald City'.
The list of things to do as a visitor seem endless and I'm not going to attempt to cover all things here, I will touch on some of my favourite things and then let those of you who have the opportunity to visit discover more for yourselves, after all that is the adventure of travelling isn't it.
Seattle's history dates back to the early 1850's and it wasn't a sure-fire winner as a place to relocate to, look back at the town and the seemingly crazy decisions the original settlers made and you wonder how on earth the place ever stood a chance. To get some background on this take a fascinating tour under the streets of the city. Bill Speidel's Underground Tour offers a humourous and intriguing insight into the development of the city, its great fire of 1889 and the changes to topography that make todays Seattle layout unrecognisable from the one Rudyard Kipling saw the cooling embers of. The current tour has changed somewhat from the first we did many years ago as access to much of the many miles of underground streets has been somewhat restricted. This 75 minute walking tour is still definitely well worth investigating. Trying to imagine what life must have been like for people as layers of streets were being covered over above them taxes the brain but makes an incredible history lesson.
Seattle slides down to the shoreline and be prepared to walk up steep slopes or climb steps at various times as you explore the city. It is a busy working port, shipping, boats and ferries to towns around Puget Sound are all in evidence. Visit the waterfront area and you can sit on a pierside restaurant and enjoy the view, shop or visit the aquarium.
Pike Place Market is one of my favourite haunts and I'm sure I still haven't managed to explore all of it yet. Rambling over multiple levels, twisting, turning and amusing it is a great place to visit. Depending on the season you will see all sorts of antics from fishmongers hurling Copper River sockeye salmon across a stall to huge Geoduck (pronounced gooey duck), a giant clam that can grow a siphon up to three feet long and can live to around a hundred and fifty years. The flower stalls are full of colour as are the fresh fish stalls then there are objets d'art, fun foods, artisan foods and cafe's and restaurants. We had a great start to the day with coffee and crepes at Crepe De France, delicious and so filling! It is a small establishment with a great vibe and watching the staff make crepes, eyeing the different fillings makes the task of choosing something so difficult and ensures you'll return.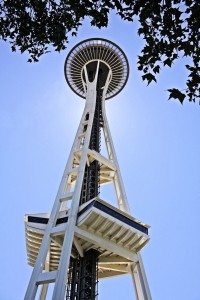 For the shopaholic there's plenty to consume your time in the city, a variety of fashionable malls house names that adorn the best shopping streets in the world alongside typically American and uniquely Seattle establishments.
Back on the tourist trail you'll want to visit the world-renowned Space Needle. Built for the 1962 World Fair and rising six hundred and five feet into the Seattle skyline it is an iconic image. Take an elevator up to the observation deck, five hundred and twenty feet up and you'll be treated to a fantastic view of the city and surrounding landscape. Float planes glide past on their way to land on Lake Union, watch the ferries ply their trade to and from the dock. Climbing up over fourteen thousand feet there is the beautiful backdrop of Mount Rainier, the highest peak in the Cascade Mountain range.
A trip up the Space Needle is definitely worthwhile. If you fancy a dinner at five hundred feet in a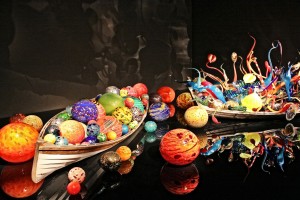 revolving restaurant then book a ticket before you arrive at the Needle to ensure you get seats. For me, on this visit, probably the most memorable sight was at ground level and was the Chihuly Garden and Glass. Opened in 2012 this is an amazing experience and as you wander through the galleries and out into the garden you'll marvel at the inventiveness and the craftsmanship that can create such extravagant designs. This has been rated the number one visitor attraction in Seattle and once you've been you'll understand why! As a quick heads up, if the queue at the ticket shop for the Space Needle is too long, pop into the Glass Garden first and you can buy tickets for the needle's timed entry there with much less of a delay.
In many ways Seattle has changed and improved over the years but sadly there is also a decline too. One of the reasons I enjoy visiting the city is the thought of whale watching. When I first visited it was common to spot pods of resident Orca Whales from the ferry, in fact commuters on the ferries could often recite the names of the pods as they were such a common site. Today you can still see Orcas and we did, but not in the sound, or very rarely. The resident pods are in decline and now you need to travel a little further to see them and transient visitors.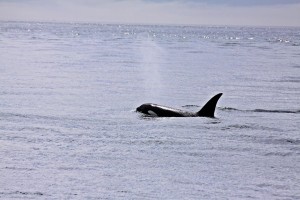 This year involved a drive up to Port Townsend to take a tour with Puget Sound Express. The day long trip takes you up to the San Juan Islands and to Friday Harbour, where I had probably the best burger of my US trip this time, and then back to Port Townsend, an eight-hour round trip. Seeing Orcas up close is an amazing experience. Nature doesn't appear on demand so you never know what you'll see and when. Our trip saw Orcas on two different occasions, porpoise and seals. The day before they had seen Grey Whales and Minke Whales too. The crew are incredibly friendly and make a fabulous effort to ensure everyone has a fun day. Do try the Blueberry Buckle!
Another new attraction since I last went is LeMay, America's car museum. An incredible collection over four floors and you'll find my article on it here.
There are plenty of guide books that go into great detail about Seattle and I'm not going to compete with them. I hope I have whetted your appetite to visit this wonderful city, take a trip there and you'll find more things to do than you'll have time to accomplish.
Bill Speidel's Underground Tour
Pike Place Market
Crepe De France
The Space Needle
Chihuly Garden and Glass
Puget Sound Express, whale watching tours
Read our article on LeMay: America's Car Museum
LeMay, America's Car Museum
Share this post