I love surprises,  admittedly there is no reason why I should have been surprised by The Wye of Llangoed Hall but, in my defence, in strange times and admidst one of the busiest periods my profession has known, I booked somewhere special to stay and promptly forgot everything but the address and when we were due to visit.
An idyllic drive through Snowdonia and down to Powis (Powys in modern parlance) culminated in one of those 'oh wow' moments as we slowly approached along the driveway and Llangoed Hall revealed itself in all its glory.
It is said the first Welsh Parliament was held here. In Regency times the property changed hands in a gambling bout! In 1919 the building as we now see it was completed, the first major commission for William Clough Ellis, he of Portmeirion fame.
You can understand why Bernard Ashley, husband of Laura Ashley, fell for this home. He bought it in 1987 but, at that point it was in poor repair and might even have been demolished had it not been for its historical and architectural importance.
Arriving today is a pleasure both in the way it pleases the eye and also of the warm welcome you receive. This is one of those special environments where the people working here take pride in what they do, recognise the importance they play in your life and understand you want something special, it is a conscious choice you make to come here, one expecting excellence and Llangoed delivers in no uncertain terms.
After a warm welcome we were shown to a delightful room, beautiful views from the windows, gentle music emanating from a Roberts radio and a decanter with complimentary sherry sat on a silver tray with glasses and water.
Don't laugh at this next bit please, I mentioned life was a little crazy when I booked to stay. Before dinner, included in the price of our stay, I decided we would take a walk. Footpaths had been pointed out when we arrived. We had time to spare and so, on a glorious July day, we stepped out into the field, passed the cows and headed for the treeline. The path followed, we then discovered, the edge of the Wye river and once again that three letter word escaped my lips 'Wow'.
Is the Wye river the prettiest in Britain? There are many contenders for that title, but stand here with Llangoed hall on one side and the curve of the Wye on the other, trees hanging over you, warmth in the air, sunlight glinting and you have a moment of heaven. This little part of the Wye River, the Wye of Llangoed Hall, stole my heart.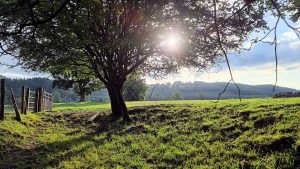 Walking the hallways of Llangoed, traversing the stairs, strolling through to the dinner table, arriving for breakfast, sunlight streaming in through French doors, all these things make a stay here truly special. Combine that with an exquisite three course dinner, a menu that makes me want to sample the dishes I didn't have, a beautiful walled garden, superb roses, a maze and a kitchen garden with bee hives, chickens and ducks, the whole feels greater than the sum of the parts and this is a destination we will build future trips around so we can enjoy the magic again and again.
Thank you to everyone at Llangoed Hall!
I'll let you discover more on the website for Llangoed Hall, there you can see the rooms, more of the history and get an insight into the things that we enjoyed so much.
Share this post