Castles are a huge fascination and that historic cluster of structures in northwest Wales seemed a likely destination. Picking somewhere on the way to stop was the next task and, because through the years, as so many people have mentioned Ludlow, it seemed a good candidate.
A little research confirmed Ludlow as a perfect destination, everything pointed to it being picturesque, an eleventh century castle at its heart and a rather well known and gorgeous looking hotel for starters.
Fortunately that picturesque hotel had availability to suit, The Feathers became my go to accommodation for four nights.
There is an air of trepidation as you approach a destination, especially one you have high hopes for. The outer edges of towns are rarely captivating and rarely a true sign of what awaits.
Four nights in Ludlow certainly flew by in grand style. Having grown up amidst the level landscape that is Romney Marsh, anywhere that sits high up on one hill whilst the streets falling away enjoy the backdrop of other hills, well those locations provide constant delight to me.
History and architecture define Ludlow. You must wander with your gaze trained well above first floor level (do be wary of where you walk and think kindly of the other pedestrians as you amble around, one eye on ground level is recommended), there's plenty to capture your attention, please your gaze and provide fodder for your camera.
Ludlow castle, referred to as one of the finest medieval ruins in England, is a worthy destination. There were rumours of filming taking place on the day I visited and this is somewhere that holds a fascination. All credit is given to those who oversee the site, walking around was a pleasure and the information provided made this one of the best visits I had over the coming week of travelling.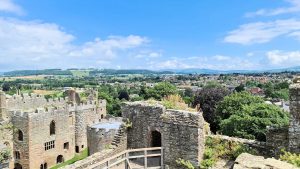 Ludlow is a foodie destination and I do like to indulge. Cafes and restaurants are in abundance, there was a delightful sojourn overlooking the market square, basking in the afternoon sun and enjoying a glorious selection of olives and some wine from Harp Lane Deli
An evening meal at the Church Inn was a very pleasant surprise and time spent in their garden, within the grounds of St Laurence's church, was equally delightful, sunshine, ice cubes and a stunning backdrop do wonders for aching feet post route march.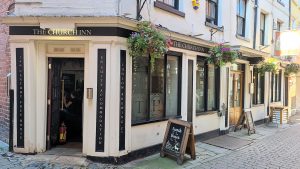 Ludlow is a town that I will visit again, there's a charm to it, an intimacy and a grandeur that make it enthralling.
Make time to follow 'The Bread Walk' .  Personally, I recommend crossing Ludford Bridge first and walking it clockwise to Dinham Bridge, skirting the river for the finest view as you approach the hilltop castle. Dally beneath to dip your toes in the river before climbing up to the castle itself.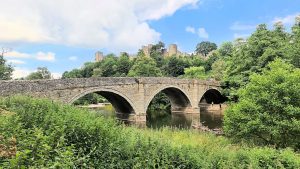 From delightful dinners, the Feathers Hotel did me proud, through wine and olives in the square to a gin and tonic under the auspicious church walls, Ludlow delighted with food, drink, stunning architecture and character, I even discovered one of those gems of life, a true hardware store of grand old fashion (Rickards of Ludlow) and came away with several wonderful and necessary purchases to boot.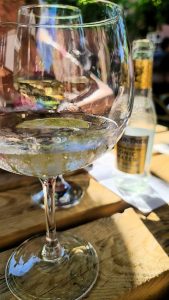 If you happen to be nearby, do pop along and sample the towns delights and, if you're not in the vicinity, plan a trip and go, you'll be glad you did.
There's plenty I didn't get to sample and so Ludlow will see me again.
Share this post