I don't know about you but I love the festive season, however, I like to have it happen at the right time and not start too soon.
Over the years certain personal traditions have developed and for me the enjoyment of Christmas as a period works best when it is concentrated into a defined timeframe.
Getting the Christmas tree from the local farm shop is the first step usually, the official beginning of my Christmas. Prior to that I am a bit of a bah humbug. Not really interested in songs on the radio or presents to buy in the shops. Twelfth night somehow always feels like the time to put up the tree. By then I'm getting comfortable hearing carols and Christmas songs playing, the nights have properly drawn in and, most years, that chill is in the air that speaks of winter proper hovering in the wings.
First step to get the event underway is light the wood burner and pop a saucepan on top of it, into the pan goes the makings of a mulled wine; one bottle of red accompanied by port, triple sec and brandy. Oranges and lemons are sliced up and added along with cloves, all spice berries, a cinnamon stick and bay leaf. Whilst that heady concoction is warming alongside us the task of getting the tree up straight and making sure it stays in place begins. Out come the decorations, a cornucopia of objects collected from various places. I love to have things around me that stir memories, glass decorations from a little shop in Warwick we bought many years ago, handmade and unique. A lovely box of heart-shaped baubles from old favourite Fortnum and Mason and some aromatic decorations brought back from the Munich Christmas Market.
Our tree, once decorated is a trip down memory lane and just as the lights are turned on we can step back, ladle out some mulled wine and toast the start of our Christmas. Then we begin to worry which of the decorations will fall prey to the cats attentions this year, we long ago gave up on chocolate decorations or ones with feathers.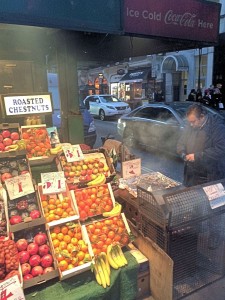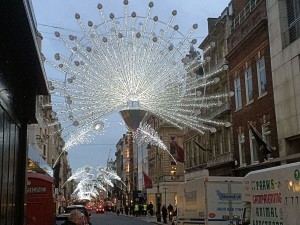 Another pleasure of the Christmas routine is a trip to London, whether it be for present shopping or just to enjoy the buzz of the run up to the holidays; the city provides a welcome boost to the anticipation, a mile marker on the way to the big day.
As darkness falls the lights really start to sparkle and provide a wow. I don't care to think how many years I have been buying fresh dates and roasted chestnuts from a certain stall on Oxford Street, perfectly placed to catch you as you cross from or to Selfridges.
This year the lights are every bit as wonderful and captivating as previous times, Selfridges' window has yet another stunning display, the current theme, signs of the Zodiac.
After admiring the lights in Oxford Street it's time for a trip to Marble Arch and then a more modern event that seems to be growing in popularity.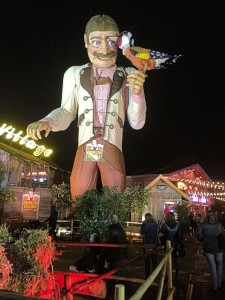 Hyde Park's winter wonderland also seems to be growing in size and the big wheel is a great and gently paced place from which to see the glittering lights of the park. It's probably as much fun watching some of the more frantic park rides throwing people around as it is being on them.
Smells of bratwurst, chestnuts roasting, mulled wine, spiced cider and chocolate caress the nasal passageways as you wander from stall to stall, arts, crafts and snow globes catch your eye whilst screams of those on the rollercoaster rides vye with the live music of bands for your attention. Every where you turn there is something to wonder at, a ride to prepare for and food to eat. The build up to Christmas and the appetite to enjoy it grow from year to year.
It's sometimes hard to remember amongst all of this that Christmas is built around a religious festival. Is it a shame to lose that or is it good for the period to become something more inclusive?
Has it become overshadowed by the marketing machine that embraces the nostalgia we pin to Christmas? There was a time when getting an orange for Christmas was the treat you received, can it be left to individuals to make their own way and choices through the madness?
Whatever Christmas means to you I hope it remains something special and precious, not just about presents but about generosity, traditions, understanding and kindness.
Share this post