Food is something of a passion and definitely a source of pleasure so, whenever I'm in London, it's hard to pass up lunch with a British icon.
My feet seem to carry themselves towards what is possibly the worlds most famous corner shop, Fortnum and Mason. Founded in 1707 they have managed to be, in my eyes and their words, 'an essential destination for anyone in search of extraordinary food, exceptional service and joy-giving things ever since'.
Stepping across the threshold into the hallowed halls always gives me a sense of excitement and delight. The joy is intense at any time of the year, Christmas always has a special magic but that childlike wonder sits with me at every visit.
My eyes never stop, they alight on something colourful, exotic, captivating then dart along a shelf in magpie like desire for shiny objects. Shelves of coffees and teas beckon and remind me that quality of ingredients makes the ritual of making a cup of tea so much more enjoyable; loose tea, a pot, silver strainer all add to the experience and somehow to the flavour.
Downstairs amidst fresh produce, one is reminded yet again that provenance is relevant, quality matters as does care and it is good to care about the quality of what you choose to eat.
'Make Life Special' is a mantra at Graham John and Fortnums is one of the temples to delight that everyone should visit and savour at least once, regularly if possible.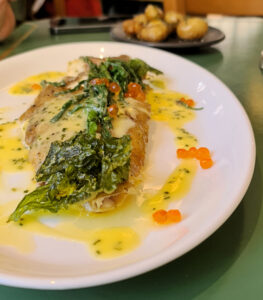 There is a soul to this place, a connection with our pasts, with tradition. Ritual is as important as the quality of goods, service is primary and engaging with an establishment such as this enriches us in so many ways. We desire to belong, to be part of something greater. We should grasp the best of the past, whether real or perceived, learn from it, improve our lives and world and we should honour and maintain the etiquette of polite society; isn't the world a better place when we display good manners, kindness, thoughtfulness?
Have you ever received a gift in a Fortnums bag? Had one of their iconic hampers arrive on your doorstep? Eaten a Scotch Egg? (One of their gifts to the world of gastronomy in 1738).
Fortnums send out around 120,000 hampers a year, they are a must have item for so many people and provide joy endlessly.  Did you know you can create your own hamper?
Fortnum and Mason certainly isn't all about food, explore floor after floor of quality items and you'll find something that will travel home with you to become a treasured possession. Every Christmas, as I open a box of Fortnums decorations to add to our tree, a smile touches my lips and I relive the moment we bought them, a priceless moment and memory, one of many I treasure.
Once it may have been seen as a domain of the rich, in a more egalitarian world the oldest corner shop is ultra accessible, an inclusive environment, one we all should experience and enjoy.
Visit Fortnums and 'Make Life Special'
And if you don't have the opportunity to visit in person, they can come to you:
Visit Fortnum and Mason's website
Share this post