Salzburg at Christmas has a charm to it, an intimacy the like of which is only found when mountains and river squeeze people into a set space and when snow falls to add a magic to the landscape.
There are many beautiful cities around the world but only one gave us Mozart, one of the rare gifts life bestows.
I first visited Salzburg over thirty years ago. Back then, for me, it was just a name, unusual, intriguing and in the days before the internet, one I knew nothing of, strangely not even the Mozart connection (I hang my head in shame). Salzburg wasn't even where I was supposed to be but a post midnight drive out of snowy mountains and a few unhelpful circuits of Innsbruck in the dark led the car and passengers out toward a city whose name felt important if for unknown reasons.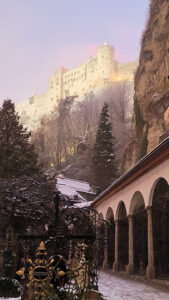 Salzburg old town isn't large and for me that may be one of its greatest charms. Squeezed between the Salzach river and three mountains this old place is a magical contrast of towering churches, open squares and charming passages that dart between streets introducing you to hidden shops and places to grab a snack. All this sits under the watchful eye of one of Europe's largest castles, the Hohensalzburg, sat upon the Festungburg (one of those mountains) and looking majestically out over the surrounding countryside.
This, my third trip to Salzburg, was driven by a desire to see the Christmas markets and to experience the intimacy of a Mozart concert within the Hohensalzburg.
Something about traditional European Christmas markets fills me with a sense of joy that homegrown ones back in the UK just don't achieve. Don't get me wrong, there are wonderful Christmas markets in Britain but there is a cultural difference that is palpable.
As a nation, we've been enjoying Christmas markets for decades in England, I believe the first one was in Lincoln in 1982. The oldest Christmas Market in Europe is the Striezlmarkt in Dresden, documents date that to 1434. Europe has centuries of enjoying these and a culture around food and drink that feels wholly more engaging as a community.
The Salzburger Christkindl Markt spreads across Dom and Residenz Platz, two beautiful squares of delightful architecture with the Hohensalzburg as a backdrop. Approach the market in the morning as it opens and there is colour and scent that is full of expectation. As the day progresses the squares fill with people, there is a buzz, a thrill to being there, smiling faces, laughter and the wondrous aroma of gluhwein, bratwurst, kartoffeln and hot pastry.
It's easy to get caught up in the moment and you must immerse yourself in the throngs, marvel at the range of christmas decorations, wood carvings, snow globes, clothes, amazing spreads of chocolate coated foods and the variety of drinks from kinderpunsch for the children to beer and eierpunsch for the adults.
As the day turns towards evening the lights come on and while you wander amidst the teeming market, steaming mug of gluhwein in hand with snowflakes falling around you and carol singers on the steps of the Dom, I defy anyone not to feel as if they have found a moment in heaven.
Salzburg has so much to offer. The architecture is Baroque and earnt it UNESCO World Heritage Site status in 1996. Throughout the year you can easily fill your time with things to do.
Many come here to see places where The Sound of Music was filmed. Lovers of church architecture will be in their element, for me Erzabtei St Peter is the most impressive. The Benedictine Abbey of St Peter is the oldest abbey in the German speaking world and monks have been here in the heart of the city since 696. Within the walls of the abbey is the Stiftskulinarium, reputed to be the oldest restaurant in Europe (Salzburg is awash with records) food has been served here since 803. If you want to treat your nostrils to a sensory delight find the Stiftsbackerei. Many visit to see the waterwheel. The aroma as you approach the courtyard that houses the oldest bakery in Salzburg is mouthwatering.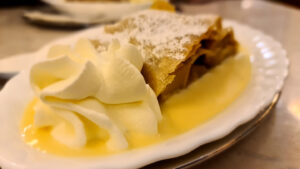 Food is a big thing for me and Austria holds a place in everyone's hearts where eating is concerned. When returning I told a friend I may have 'over-strudel'd' during my visit. I'm not sure such a thing is possible and just working your way around Salzburg by strudel is a delight. Other desserts are available! (I'd never be forgiven if I didn't mention Sachertorte but in truth that's for talk of Vienna).
I'm going to let you discover the cuisine on your own, that's much of the fun.
A visit to Salzburg seems to involve Cafe Tomaselli as a rite of passage, incredibly popular, be prepared for the hunt. Step into the café and you are greeted by a sea of people seated with waiting guests prowling amongst them searching for the next available table. Some hopefuls resolutely stand their ground beside a desired window table waiting for the occupants to move on, others glide around the various rooms seeking signs of weakness in a diner whilst others place themselves strategically to cover as many opportunities to grab the next seat as possible. It's seen as a very traditional experience, for me, my innate Englishness shines through and once seated I can't help but feel for others still standing anxious for a table before the day disappears. Where I should be shouting triumphantly 'I have my table and I'm not leaving even if I have to eat eight bowls of strudel to keep it', instead I can't help but feel I should hurry along and make way for some others eager to tick off the Tomaselli experience from their list.
Explore the streets of the city, there are lots of cafes and stepping into them feels like a step back in time to a simpler world, warmth and charm always seem to greet you. Taking a break to sit and order a hot chocolate, a coffee or something alcoholic whilst grabbing a slice of something sweet is ever worthwhile. Lunch and dinner time are a culinary treat if you seek traditional Austrian food. There are plenty of other cuisines on offer but when in Austria…
Getreidegasse is the famous shopping street and home to Mozarts birthplace. I love wending my way through the passageways between here and Universitatsplatz, so much to discover!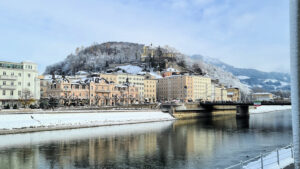 Across the river, the Salzach, you will find Linzergasse, a famous street popular with shoppers, lovers of history and food enthusiasts. Bakeries and restaurants sit here, The Alter Fuchs was charming, friendly, the beer delightful and food wonderful. Cafe Habakuk was recommended for cakes and pastries and lived up to expectation.
On the western side of Linzergasse you can find your way to the cemetery of St Sebastian's. Here Mozarts wife and his father are buried and also sits the tomb of Theophrastus Bombastus von Hohenheim (Paracelsus).
The Mirabell gardens are a simple walk from here and, if like me you enjoy exploring cities on foot, I would walk from Mirabell across the river to Mullner Kirche, you can have a stop off at the Augustiner Brau and head up onto the Monchsberg. I like to walk this way back into the Altstadt as you are looking over the old town and river toward the Kapuzinerberg. This seems like a more pleasant way to enjoy the view rather than the reverse walk. In the snow the views are exquisite.
Do walk up to the Nonnberg Abbey, another record breaker, this nunnery is the oldest continuously existing one in the German speaking world. The views from here are well worth experiencing.
So there you have it, hopefully I have whetted your appetite to visit or revisit wonderful Salzburg.
Oh, I've missed something important out!
Mozart at the Hohensalzburg!
In the birthplace of Mozart it would seem rude not to experience a live rendition. Lunch at the Hohensalzburg followed by a Mozart concert, to experience chamber music within an old European castle is too good an opportunity to miss. I won't say too much but the evening went wonderfully smoothly, the food was lovely and to sit in an intimate environment listening to Eine Kleine Nachtmusik played by an incredibly talented chamber ensemble is simply captivating; do it.
You will find countless opportunities to enjoy music in Salzburg and I look forward to a return visit and a concert in one of the many other wonderful spaces the city provides.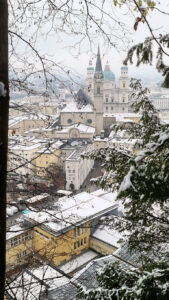 There is much I haven't touched upon, sights I haven't mentioned, many more to see and plenty of reasons to return.
All I will say to finish is this: Salzburg is beautiful in the summertime, but it is amazingly gorgeous when the snow is draped across the landscape.
Thanks to my friend Trevor Smith of Travel Counsellors for arranging an amazing trip.
Share this post