Approximately four miles from the centre of Windsor town, across on the Surrey side of the border, lays a wonderful area known as The Savill Garden. Forming part of the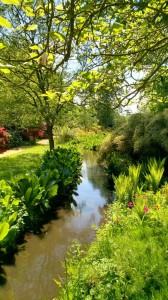 four thousand eight hundred acre Windsor park this thirty-five acre section is a delightful garden created in the nineteen thirties.
'Eric Savill was appointed as Deputy Surveyor in 1931, and began working on the Garden in the winter of 1932, with the support of George VI.'
Today, once you have secured a space in the car park, you will walk through The Savill Building.  It was constructed from timber sourced on the park and completed in 2006. Under the grid shell structure you will purchase tickets, explore the shop or indulge in some homemade cake and freshly prepared food in the restaurant. There is a plant shop that will likely vie for your attention and after wandering around the grounds you'll have inspiration of how to incorporate some of the delightful offerings into your own home landscape.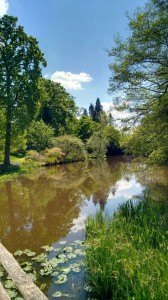 Mid may is a great time to visit, especially for those who love Azaleas and Rhododendrons. Cherry blossom festooned the trees for our visit and, on a surprisingly warm day, every sense is satisfied as you meander through the grounds. Waves of scent scintillate and draw you towards banks of shrubs that lure you visually too. Sunlight glints from water and the calming sound of coots mix with the whisper of leaves gently trembling at the caress of a light breeze. Although the car park seemed full, the park is of a size that you don't feel crowded, yes there are others there wandering around admiring the rampaging fountains of blossom, but you seem to be able to wander in your own biosphere, as if somehow this is your garden and yours alone.
These are designed gardens but there is a magic about water and trees that lulls you into a sense of tranquility and it is easy to feel that this landscape is just meant to be; that is the delight of great design, creating something new that feels as if nature planned it.
There is a link below to The Savill Garden website. Take some time to plan your visit, make sure you allow yourself plenty of time there and take your camera, perhaps even a notebook and pencil to sketch designs and record ideas, instead just take a book and find bench to sit, relax and read. Let the smells, the sounds and the sights ease gently into your subconscious and you'll come away with a sense of joy that is almost primal, calming yet invigorating, satisfying and inspiring. I wish I lived closer as the temptation would be to visit every week.
Download a Savill Garden Map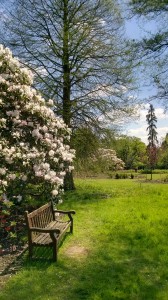 Visit the website for The Savill Garden
Share this post