We thought it important to share our thoughts on how to prepare for your photoshoot in 5 Easy Steps.
We love photoshoots and we particularly love the reaction when clients see our photography presented in the brochure we create for their home.
Our photoshoots average around four hours (sometimes they take more than one day) and to ensure, together, we achieve the best we can, we have put together some simple guidelines which we hope will help you to prepare.
1: Light: As George Eastman, founder of Kodak, once said 'Light makes photography. Embrace light.'
Do all your lamps have bulbs in them? Do all the lights work? Can they easily be turned on for the photoshoot? On the day of the shoot – Allow light in. Open blinds, pull back curtains and think about how they will look in a static shot to a critical eye. Do blinds sit level? Are curtains held back neatly or pulling the rail off the wall?
2: Spick and Span: The Cleaning part.
Life creates dust, fingers leave marks, cups and mugs leave rings, breakfast leaves crumbs and children and pets leave any number of things. Do cast an unbiased eye over your home on the morning of the shoot. Coffee tables, mirrors, sinks, taps, shower screens etc, do think about streaks, marks and limescale.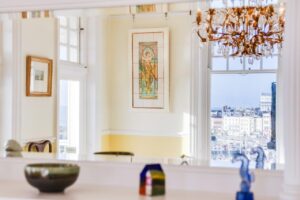 3: Stage the home: The Marie Kondo Section
The two most important rooms in a home are the Kitchen and Bathroom. Put away cleaning products, leave toilet seats down and keep work surfaces clear. Remove distractions (clutter) but don't remove your personality, people need to know someone loves to live here. It is sometimes said, anything smaller than a cantaloupe melon can look like clutter, especially in photographs.
Don't have huge empty areas of worksurface or tabletop. Think about place settings for dining tables, magazines for the coffee table, fruit and or fresh flowers for other areas, they add colour and vibrancy. Remove rugs especially bathroom or pedestal mats. Bedroom and living room rugs should also be looked at carefully, people need to understand the room as a whole and, however lovely your furnishings, sometimes they make a room seem smaller. Hide cables and cords wherever possible. Does the phone charger need to be there on the bedside table for the shoot? Hide the laptop cable or the toothbrush on charge.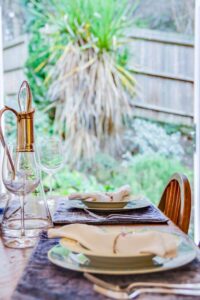 4: Kerb Appeal: The one chance to make a first impression moment.
The first thing people will see is the front of your home so where are the bins stored and where can they go during the shoot to be out of the way. How does the garden look? Time of year can create a challenge as can the weather and there may be a second shoot required in certain circumstances, that's fine.
5: Finally: Who and what's in the way and or visible?
Where will pets, children, husbands be during the shoot? How does the linen look, are the bedspreads fitting and what will the camera show under the bed if that is visible? Cushions?
We hope the above pointers help and please do contact us and chat about any questions specific to you and your home.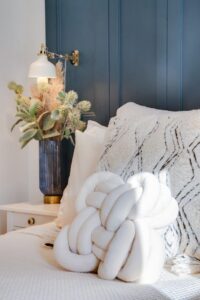 Share this post