Once upon a time this area was known as The Isles of Sheppey; Harty, Elmley and Sheppey were separated by channels of water which have since silted up and given us a nine mile by four mile single island.
There was activity here from the Bronze Age onwards with the isles and then island growing in importance. Sheep farming, a port, once a naval yard, railway and it is the birthplace of British Aviation.
Today people will know the names of Sheerness, Minster and Leysdown. Some will be aware that the northern part of the island is more populous, the southern part less so with hamlets and nature reserves dominating the scenery.
It is an area that many dismiss without knowing much about it.
Visiting the island with purpose and awareness can bring a wealth of surprise. Looking out to sea from the northern shores you will gaze toward the Essex coastline and Southend on Sea. Ships ply their trade still in and out of the Thames Estuary and there are plenty of opportunities for walks along lovely coastline and through expansive nature reserves; a trip to The Ferry House at Harty will provide a wonderful meal in a super setting.
Island life is often about taking a stroll out along the cliff top, following steps down and walking along the shore of Leas Beach to Minster or Sheerness.
It can be about popping in a car and driving to Shellness to take a walk through the Nature reserve and then enjoying a superb meal at The Ferry House.
The sound of oyster catchers calling from the water's edge will become a common accompaniment to life. The variety of birds that visit the shores and fields of Sheppey will keep you in touch with the changing seasons as does the seascape altering with lengthening and shortening days.
Sunsets from Minster Abbey or from a waterside retreat with a drink in hand and meal awaiting, these are some of the things that enrich island life.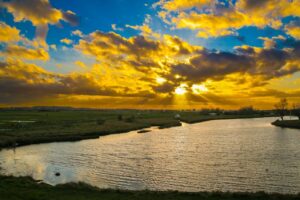 Trains connect Sittingbourne with Sheerness and the M2 is an easy drive from the island.
There's lots to discover on Sheppey from Bartons Point Coastal Park, beaches and the town of Sheerness, to Elmley Nature Reserve, three thousand three hundred acres of wilderness and beauty.
Around forty two miles from London, Sheppey is a surprising escape from city, town and county hubbub.  It's the sort of area you think you might need to travel several hundred miles to find.
Share this post