Finding myself back at the O2 for the second time in five days was a good feeling, the only hesitation, 'would the level of expectation I had for the gig ahead be too great?'
I really didn't need to worry. Just talking to people in the crowd around me set a degree of reassurance and I have to say I was somewhat surprised at how many people had already seen ELO in concert on this tour and were back for more. Several were also coming back to see him on the remaining gigs at The O2. Was it really going to be that good a night?
The Feeling were supporting and got the night off to a rousing start, slick, polished and reverential they made a real impression and had a huge following in the audience.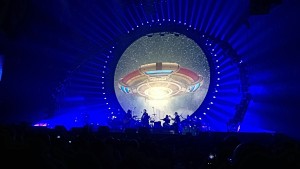 Then for Jeff Lynne and ELO. With such a massive back catalogue of work you can't help but hope for certain songs to be included. For me his work with Tom Petty and also The Travelling Wilburys has a particular fascination but I knew there would be none of that tonight. This was to be an ELO concert alone and the only disappointment, if that were possible, would be from them having to omit songs due to time constraints. There's a newish album so expect tracks from that to take up some of the evening and then hope that the rest will be filled with your favourites.
From the artist's point of view there must be a challenge in knowing that people expect you to play certain songs. You know what they want to hear but I guess you don't want to spend the rest of your life playing just 'the hits' however wonderful they are.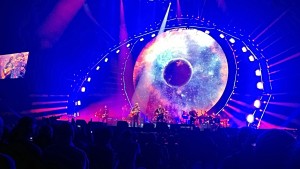 The set list was a cracker and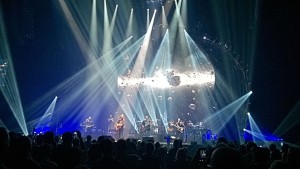 within a couple of tracks the audience were up on their feet and stayed there for the whole time. Jeff Lynne is not bling, he's demure, unassuming and humble. See him interviewed and you get the sense he is surprised by success and the standing he holds within the music industry. He was influenced by many of the greatest musicians and he has worked with incredible people throughout his career. What you see on stage is a man who loves music and writes quite amazingly. He has a timeless catalogue that will keep entertaining generations when so much else and so many others have disappeared into the mists of cloud storage.
Sadly for me we didn't get Hold on Tight, Ticket to the Moon or Here is The News but as the band belted out classics such as Mr Blue Sky, Wild West Hero, Livin' Thing and Don't Bring Me Down so they could be more than forgiven.
As a concert it was fantastic, all the elements were there you'd expect from ELO, not a full Orchestra perhaps but a sound that was clear, tight and filled the audience with joy. It was easy to appreciate why so many chose to see the band time and time again.
As they left the stage after the encore of Roll Over Beethoven the parting words were 'see you next time'. I certainly hope we do and before not too long.
For more information on Jeff Lynne's ELO visit their website
To Find out what's happening and who's appearing at The O2
The concert took place on Wednesday 20th April 2016
Share this post