There is something exquisitely enticing about the thought of visiting a farmers market. If you've travelled abroad and marvelled at the array of produce in a small village market, (we love the out of the way Provencal markets in France and delightful Italian markets) then the chance to experience something similar closer to home is too good an opportunity to ignore. Markets somehow seem so much more alluring than shopping in a modern chain store, fresh air seems to bring out the best of the experience as does meeting and chatting with passionate food producers.
Local markets have had a resurgence in recent years for many reasons. Talk to people and they may tell you that they want to return to a way of shopping that supports the small producer. They care about food miles or the integrity of their food. Some will say that they like the hustle and bustle and friendly chat that comes with buying from the producer. For some that Sunday stroll round the corner becomes a pleasant ritual, something to share with visiting friends and family.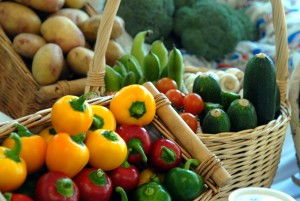 Whatever the reasons it is safe to say that many markets around the county are healthy and strong, satisfying shoppers needs and giving a little bit of extra value from just being part of a 'food movement'.
A modern day success then, the Farmers Market. They have filled that niche between the corner store and the supermarket and have a large, loyal and vocal following. Kent is particularly blessed with many superb ones, you only have to see the nominations for the Kent Life and Kent on Sunday Food and Drink Awards each year just to see quite how fabulous they are. There are now nearly 1,000 markets a year to enjoy in Kent, a wonderful celebration of small business and community support.
The county is lovingly referred to as 'The Garden of England' and it has a rich tradition of food production. With longstanding links to Europe it has been at the heart of adopting new cuisine too. This diversity is also recognised in the aforementioned Kent Life and Kent on Sundays Food and Drink Awards a wonderful celebration of all things food and Kent related.
A former award winner and the largest Farmers Market in Kent takes place on the second Sunday of each month in the historic Wealden Town of Tonbridge. A hustling and bustling event it is a well established feature of this marvellous town and wonderfully supported. You can discover more via the Tonbridge Farmers Market Website. It celebrated its fourth birthday this June and was full of great produce, wonderful items and with cookery demonstrations taking place it is well worth a visit. The market is also a member of The Tonbridge Loyalty Card Scheme and for every five pounds spent you can get your Tonbridge Loyalty Card stamped. Six stamps complete a card which can then be entered into the monthly prize draw to win £50.00 of shopping vouchers to spend at any of the nearly seventy local participating Tonbridge businesses. More information with prize winning announcements can be found on the Tonbridge Town Team website.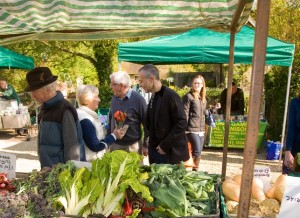 The Tonbridge Market is run by Steve Wood. Working with him is The Kent Farmers Market Association which was set up in 2007 to assist markets across the county maximise what was already seen to be a £3m a year benefit to the local economy. Along with its patron Michel Roux Jr the association champions local producers and aims to help communities benefit from these wonderful stimulating events.
Take a look at what's in your larder, think about what you might want to have on your dinner table next week and then have a look for your nearest farmers market. We bet you'll find plenty of inspiration and have fun shopping.
Let us know how you get on!
You can discover a little more about Matt's involvement with The Kent Life and Kent on Sunday Food and Drink Awards in our Journal article.
Thank you to The Kent Farmers Market Association for supplying the images used in this article.
Share this post