A Sunday jaunt to Ham provided a glorious Picnic and Polo combination.
Time flies and August seems so long ago but the memory of a fabulous day is still bright and clear in my mind.
I have long wanted to attend a polo match. It is one of those things that gets into your head to do at some point and never leaves.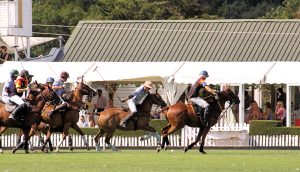 When I ask myself why, in truth I have no good answer. I've little riding experience, a donkey in childhood, a dude ranch in the Rocky Mountains, other than that I've patted a few manes in my time and that is as far as the relationship has gone.
Polo is reputed to date to the sixth century BC and have originated amongst Iranian and Turkic nomads.
It may be a nod to history that fascinates me, it may be the challenge of horse and rider working in unison, of the relationship between the two, of the skill required and the intrigue of animals and how they perceive the world and time spent charging around; who knows but interested I am, always have been and now likely will be forever more.
A full day at Ham is a simple and inexpensive way to occupy yourself. Choose good friends and prepare a grand picnic. Wicker basket, bottle of bubbly, glasses, home made sausage rolls, quiche and finger sandwiches etc. Entry is inexpensive.
Park the cars side by side, lay out a picnic blanket, pour the drink and toast the first team, huzzah to a chukka.
Now I'm not going to attempt to explain the rules, the fab chaps and chapesses of Ham have outlined them perfectly on their website
Suffice to say it takes a while for the novice to get what's going on, the odd bewildered look to the scoreboard etc but blimey do the hairs on the nape of your neck rise when five or six ponies are heading hell for leather toward you riders with mallets raised and ball bouncing ahead of them.
You quickly find yourself knocking back your bubbly so you can put your glass down and grab your copy of Richard Hobsons, 'Riding:The Game of Polo'. Get into the nitty gritty of the game and what it's all about.
Through a day of different matches you begin to realise that anyone who can ride a horse round a polo field, swing a mallet and connect with a ball is pretty amazing. You develop a whole new level of respect for rider and horse when  you watch the top teams in action.
The more you watch, the more you read, the more you study the game, the more you begin to appreciate the tactics, the roles of the team players, the interactions and swirl of play.
One of the oldest team sports, the sport of kings, however you choose to look at it, Polo is an amazing game, a fantastic team sport.
The season runs from May to September and I heartily recommend you make the effort to see a match or two.
You can go to Ham on a Sunday as a non member by purchasing a picnic ticket or a Clubhouse Day Membership. You can visit on a Saturday morning with a Clubhouse Brunch Booking.  Whether it's just for a social to see friends in a different setting, to admire the eighteen horse transport and watch how the ponies seem almost to be 'self parking' or to do a divot stomp at halftime; whatever the attraction just go and do it, you'll be glad you did!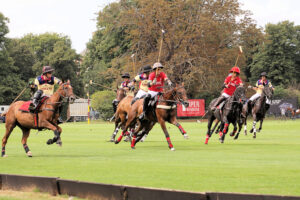 Ham Polo Club Official Website
And you can't talk about Polo without a nod to Ralph Lauren or Tatler can you:
Ralph Lauren celebrates its greatest icon, the polo shirt, in a stunning new book
Share this post