Provence is full of delights and one of our favourite is found at Lac Sainte Croix, an entrance into the Gorges Du Verdon. At ten kilometres long and 3 kilometres wide it is the largest of the Verdon lakes and a great place to visit.
Around the lake is glorious Provencal countryside, magically changing through the seasons the  activities available will vary with the time of year you visit. Choices include hiking, mountain biking, climbing and white water sports.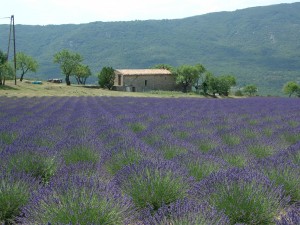 Many of you will just revel in the drive around this superb environment and explore Lavender Fields, nearby romantic hilltop villages (Ville Perche) and delight in the local produce. Check out a local market and purchase fromage, saucisse, miel and local vins together with du pain. Cheese, sausage, honey, local wines and bread make for a distinctively French experience and food always seems to have a different flavour when enjoyed in its natural habitat.
One of the greatest pleasures is stopping by an enticing roadside sign to purchase directly from the farm.
The canyon is popular with kayakers and can be entered at several places. Beaches on Lac Sainte Croix, close to the Gorge entrance hire out boats both pedalled and electric.
A great way to while away some time is to take a picnic into the Gorge by boat. (Don't forget, don't leave any rubbish behind.)
Pull up on the bank, take a plunge in the refreshing water and then feast on some of that delightful produce from the region.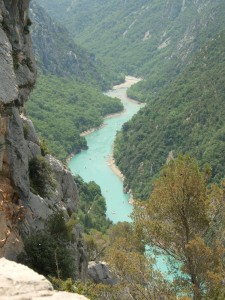 There are plenty of guides to the region and a good place to start is The Gorge Website
Share this post